By Riley Bean
Branson, MO – Familiar names highlighted the docket at this year's annual Branson Invitational wrestling tournament on Saturday, with Neosho and Seneca finishing atop the team standings.
The Wildcats finished in first place with 378.5 points, well ahead of Seneca which placed second with 236.5.  This mirrors last year's results when Neosho and Seneca finished first and second, respectively, in 2016.
CLICK HERE FOR CHAMPIONSHIP MATCH PHOTOS
CLICK HERE FOR FULL TOURNAMENT RESULTS
Neosho had six individual champions and had nine wrestlers represented in championship bouts.  Seneca had two champs and four runner-up finishers, highlighted by the 152-pound tournament champion Trey Smith.
Smith – the senior reigning state champ at 145 pounds in Class 1 – won by major decision 16-5 over Branson's Hunter Holderfield in their title match.  He raised his record to 37-0 on the season and was voted the Most Outstanding Wrestler by the coaches in Saturday's tournament.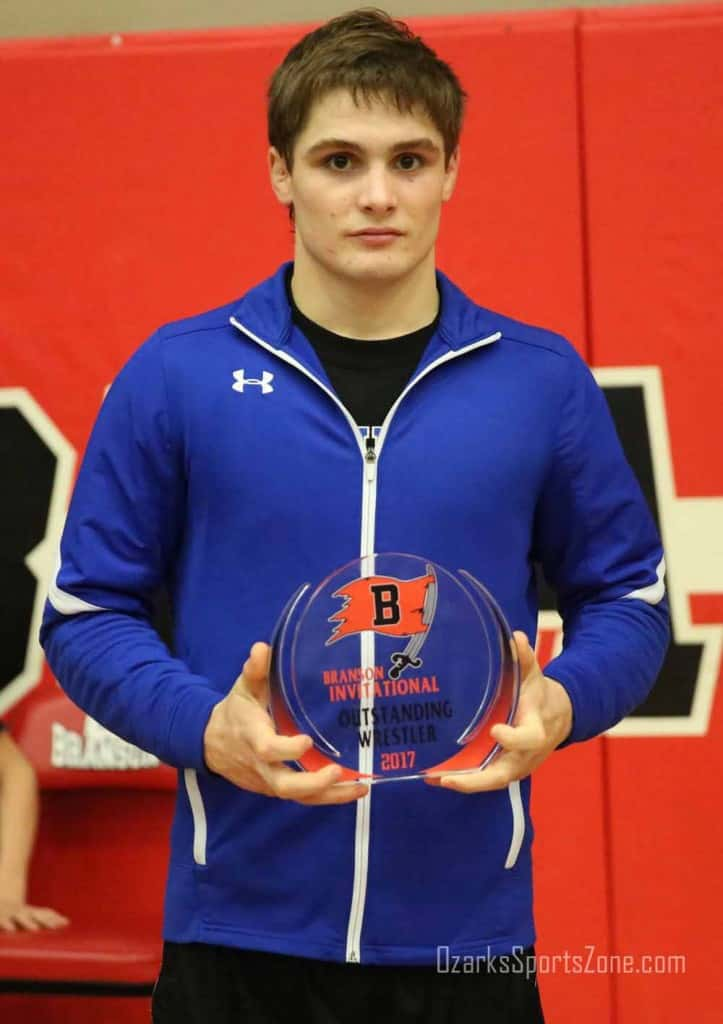 "I was feeling alright," Smith said.  "Good foot movement, good work, just trying to get a little bigger gas tank before districts and state get here.  Keep working, go out and try to be back-to-back."
He's referring to back-to-back state championships, which is on the minds of many participants in this tournament field.
"We need to work on our shape and we need to work on our head, our mental," Smith said.  "And just let [my teammates] make sure that we know that we are going for February, not just for this one [tournament].  It's just a big mental thing.  It's a big stepping stone, Branson always is."
Neosho brought home gold medals with Dalton Kivett (113 pounds), Trenton Young (126 pounds), Gannon Millard (132 pounds), Braxton Barnes (138 pounds), Joey Williams (170 pounds) and Adrian Hitchcock (285 pounds).
Kivett defeated Max Roark from Seneca (defending state champion) in a 9-1 major decision in the championship match.  Young handed Seneca's Dalton Hebree (defending state champion) his first loss of the season by beating him 5-0.  Gannnon Millard and Braxton Barnes both defeated their opponents by fall in their respective championship bouts.
Joey Williams handily defeated Luke Brandon from Bentonville (Ark.) with a 6-2 decision, giving Brandon his first loss of the year as well.
"At a preseason tournament, he placed higher than me," Williams said, referring to his opponent Brandon.  "And I was looking to kind of get some redemption on my performance.  I feel like I am performing a lot better than I did in the preseason.  So I think that was a good opponent to wrestle, and he was tough."
Williams has been dealing with deviated septum this season, and thus wears a menacing black mask to protect his face.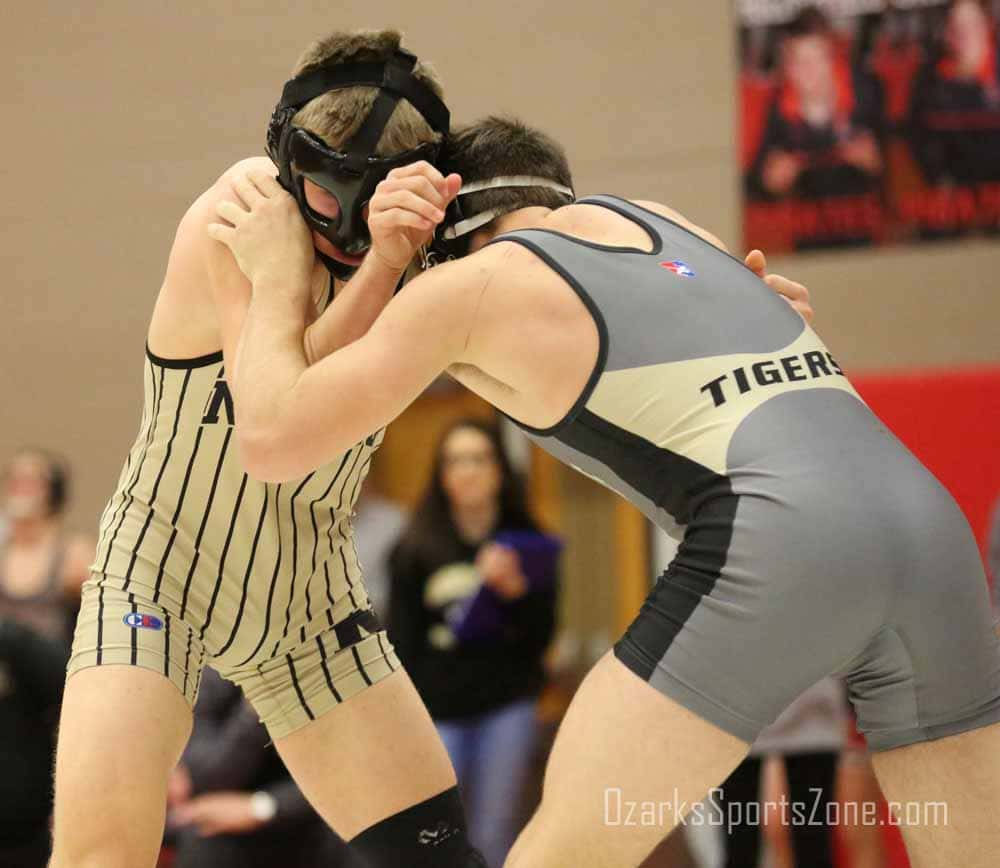 "I think it's kind of cool now," he said.  "It's part of my identity of wrestling well.  Wrestlers have strange superstitions.  And I think that's one of those strange superstitions that I have right now.  I've been wrestling well with the mask on, so I'm just going to keep it on for the rest of the season.
"I've always wanted to be a super hero," he added.
His teammate Adrian Hitchcock – who normally wrestles at 220 pounds – bumped up to the heavyweight division to help maximize his team's point potential.
"We decided that our team could probably perform best and score the most team points from that.  So that's why I decided to bump up," Hitchcock said.
He defeated Bronie Kinser of McDonald County in the heavyweight championship bout with a win by fall.
"Me and him are really good friends," said Hitchcock, "but right as soon as we step on the mat, we can't be friends.  I love him, I love Bronie.  It was a good match, he's a really good wrestler.  I'm just happy to come out of there with a win because I know at any given moment he can pin me like that.  He's a stud."
The Monett Cubs had a good showing on Saturday as well, coming in fourth as a team behind Bentonville.  Three Monett wrestlers competed in championship matches, and three came out victorious.
Joseph Semerad (106 pounds) won by fall over Oscar Ortiz from McDonald County in the second period.  Joel Barrientos (120 pounds) beat Seneca's Dawson Stephens in a 3-0 decision.  Ian Meyer (195 pounds) eked out a 3-2 win over Zachary Plummer from Neosho.
"I got a take down in the first period, and from there I just tried to control the match.  I knew he was a tough kid, so I just tried to be smart and stay in good position and it turned out 3-2," Meyer said.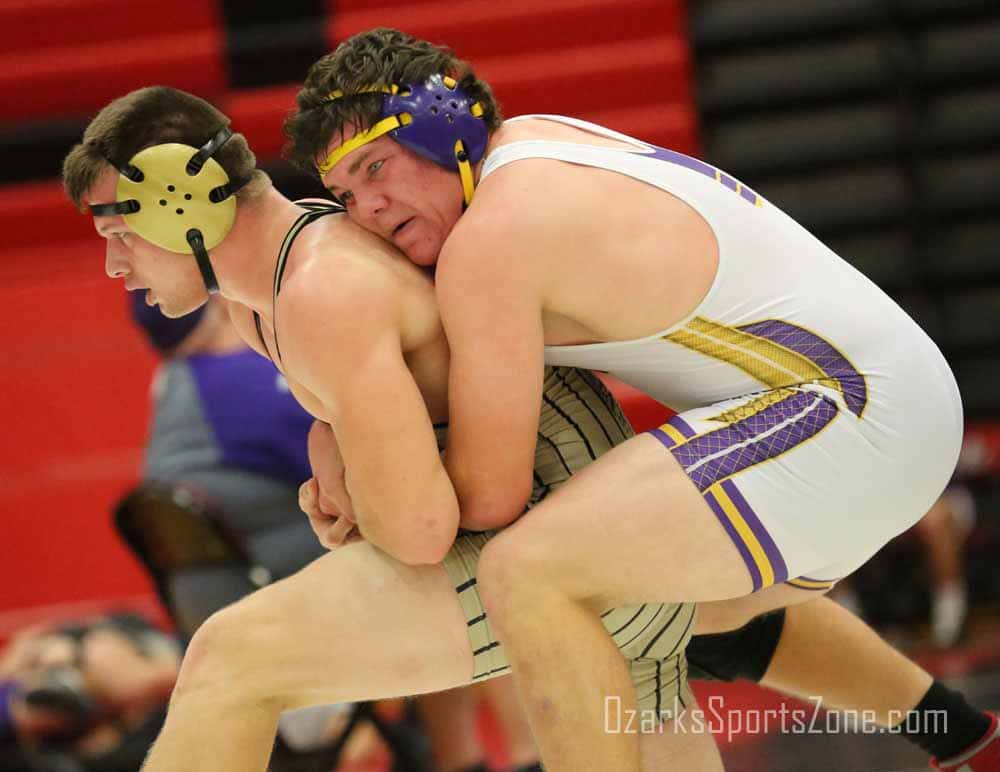 Meyer helped Monett win the Class 3 state football championship in November, and his leadership as a quarterback seeped through onto the wrestling mat.
"Going into the finals, we had three guys in [title matches]" he said.  "And I told our 120-pounder Joel Barrientos, I said, 'We're going to go 3-0 right here.  We're going to win every single match.'  And we did.  We did pretty good today as a team."
Neosho aspires to be the best wrestling team in the state of Missouri every single year, and they have a chance to repeat as the best team in Class 3 for the fifth-straight year.
Coach Jeremy Phillips' motto for his team is to, "Be a finisher," and that's exactly what they intend to do when it counts at the end of the season.
"I've been telling them it's like a ten-speed bike," he said.  "Those are outdated, but the point being is like, most of the time, when we were kids riding ten-speeds, you didn't switch gears.  You just hung out in one or two gears.  There are several gears.  We've got to learn how to find those top gears and turn it on.
"Our motto is to be a finisher.  So that's something we've been focusing on, is find another gear, turn it up, pedal downhill, and don't just be satisfied with a win.  Work for a win that allows us to have bonus points for our team.  I was pleased with our efforts.  We've got work to do and we're going to continue to stay on the path that we're on.  If we do that, I think we'll be looking to be a finisher at the end."