By Matt Turer — mturer@ky3.com
@MattTurer
Springfield, Mo. — The 2017 Bass Pro Shops Tournament of Champions opened Thursday with quarterfinal wins by USA Today No. 4 Findlay Prep over Madison Prep and USA Today No. 10 Sierra Canyon–with No. 1 junior recruit Marvin Bagley III–over Republic.
Recaps of both games are below. Findlay Prep will face Sierra Canyon at 8 p.m. tomorrow night in the semifinals. Republic will face Madison Prep at 4:30 p.m. in the consolation semis.
CLICK HERE FOR REPUBLIC VS. SIERRA CANYON PHOTOS
CLICK HERE FOR FINDLAY PREP VS. MADISON PREP PHOTOS
2017 Bass Pro Tournament of Champions Primer
Republic scraps with Sierra Canyon, nation's top junior recruit
The country's top-ranked junior took the floor at JQH Arena against Republic in Thursday's Bass Pro Tournament of Champions quarterfinals. All six feet and eleven inches of him.
But for 2.5 quarters, it was as if Republic hadn't noticed. Hadn't noticed that not a single Tiger is within six inches of Sierra Canyon's Marvin Bagley III. Hadn't noticed Bagley's 23.8 points and 8.8 rebounds per game and certainly hadn't noticed his seemingly endless list of NCAA suitors.
The Tigers eventually fell to USA Today No. 10-ranked Sierra Canyon, 72-54, but for 2.5 quarters, Republic stuck with the nation's best.
Trailing 30-13 in the second quarter, Republic refused to lay down, instead tearing off a 14-4 run to enter halftime down seven. A Ty Stevens layup capped a brief 4-0 run out of halftime, bringing the Tigers within three before a 10-0 Sierra Canyon run all but put the upset out of reach.
"We knew they were a great team," Republic guard Ty Stevens said. "We just had the mindset that whoever we're playing against we're going to give it anything we have. We started making some shots and we were just kind of feeling ourselves and were able to stay with them for a while."
Stevens was one of four Tigers in double-figures, finishing with 10 points. Treyon Rackley led Republic with 13 points.
"Coming in we just wanted to compete and give it everything we've got and just see what happened," Stevens said. "After halftime we were hoping we could keep it up but they're really athletic and a team that makes runs, and their runs were bigger than ours tonight. Overall, I'm very proud of the way we competed."
The Tigers outscored Sierra Canyon in the second quarter, 19-14, and the fourth quarter, 21-19.
"For us to play them close for 2.5 quarters, I'm just proud of our kids with how hard they competed and battled and didn't give in to a team with much more athleticism and size than we're used to," Republic head coach Trevor Fisher said.
Republic limited Bagley to 15 points and seven rebounds, both below his season average. The man with the honor to guard Bagley for 32 minutes? Senior forward Caleb Singley, who made the most of the opportunity in every way possible.
"It's just another game and he's just another player," Singley said. "Number one junior in the nation. He's a great player, but it's just a ranking. That's just people calling him that. If you're intimidated then they're going to kick your butt. But if you're not good they're going to kick your butt anyway, so you might as well make them work for it."
And you might as well have fun with it too. Singley certainly did that and was seen trash-talking Bagley multiple times throughout the night.
"I don't normally trash talk," Singley said. "It's just a once-in-a-lifetime opportunity. At the beginning of the game I called him Martin Bagwell. He did not like that. Then he tried to dunk on me at the end and he missed it and I said, 'you can't dunk on me.' He shook his head and ran down the court. He can dunk on me, I was just trying to get in his head a little bit."
Singley didn't end there either, providing a mindset that future undersized Bagley matchups may want to adopt going forward.
"If you're scared of him then they're going to dunk on you and they're going to break your ankles and makes flashy passes, but if you're not scared of him, they might do all that but you're going to make him work for it and they're going to remember Republic while they do it," Singley said.
Republic trailed 20-8 after the first quarter and was outscored 19-6 in the third quarter but still held Sierra Canyon 12 points under its season scoring average. Those scoring margins were influenced by Sierra's relentless full-court press that Republic at times struggled to break.
That team is obviously very athletic and got after the ball a lot," Fisher said. "That's definitely fatiguing. We were able to handle ourselves, stay calm and be confident with the ball."
FINAL: Sierra Canyon 72, Republic 54
Republic 8 19 6 21- 54
Sierra Canyon 20 14 19 19- 72
Republic- Treyon Rackley 13, Mitchell Coiner 11, Caleb Singley 10, Ty Stevens 10, Cameron Doke 8, Devon Ward 2
Sierra Canyon- Marvin Bagley III 15, Cody Riley 13, Remy Martin 11, Michael Feinberg 11, Terrance McBride 8, Adam Seiko 8, Marcus Bagley 3, William Washington 3
CLICK HERE FOR ALL OF OUR BASS PRO T OF C COVERAGE
Huge second-half surge sends Findlay Prep past Madison Prep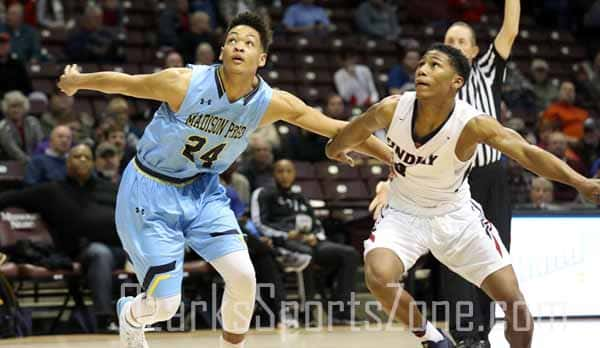 With John Calipari and wife Ellen looking on from courtside, the 2017 Bass Pro Tournament of Champions kicked off Thursday night with USA Today No. 4 Findlay Prep (19-1) pulling away late from Madison Prep (15-2), 77-50.
Kentucky commit P.J. Washington finished with 21 points for Findlay. The Pilots outscored Madison 30-12 in the third quarter and 45-22 in the second half, quickly building off a four-point halftime lead and advancing to Friday's semifinal against USA Today No. 10 Sierra Canyon and the nation's top recruit, Marvin Bagley.
"We just needed to stop playing selfish and stop forcing up shots, then by the third quarter we stopped doing that and started taking off," Washington said. "We were able to get into transition and start getting easy buckets and layups."
Each team's two biggest stars struggled offensively until late in the fourth quarter, with Washington starting 3-10 from the field and Western Kentucky commit Josh Anderson finishing just 3-8 with 12 points for Findlay.
"It was a big crowd today," Washington said. "Some of our players have never played in that type of crowd, so it was really just getting adjusted to it and playing our games."
Findlay limited Madison to a 1-12 clip from the field in the third quarter and 27.8 field-goal percentage for the game.
Findlay Prep managed to shoot 54 percent for the game despite Washington's 5-14 clip. Lamine Diane finished with 21 points on 9-12 shooting.
Josh LeBlanc's 15 points led all Madison Prep scorers.
Findlay Prep 47-38 after the third quarter.
Findlay went up 10 with 3.5 minutes left in the first half on a Reggie Chaney free throw. Madison responded with a 6-0 mini-run, cutting that lead to 30-28, with six of those points coming from LeBlanc.
Findlay ran out to a 10-3 first-quarter lead behind eight early Washington points, but an 11-4 Madison run tied things 14-14 late in the quarter. Findlay responded with a 5-0 run and led 19-14 after the first quarter after a late three by Washington gave him 11.
Madison Prep struggled from the field in the first half, dropping below 30 percent late in the second quarter and finishing the half at 37.5 percent.
P.J. Washington came into the tournament averaging 19.2 points per game.

FINAL: Findlay Prep 77, Madison Prep 50
Madison Prep 14 14 10 12- 50
Findlay Prep 19 13 15 30- 77
Madison Prep- Josh LeBlanc 15, Josh Anderson 12, Jharon Whitfield 11, Kobe Julien 10, Jamel Robinson 2
Findlay Prep- P.J. Washington 21, Lamine Diane 21, Reggie Chaney 10, Tadas Kararinas 10, Chris Giles 6, Justin Roberts 3, Ador Athuai 2, Tony Goodwin II 2, Jack Schwietz 2