By Riley Bean
Springfield, MO – The Cassville Wildcats swept both duals against Springfield Catholic and Springfield Central on Thursday at the St. Agnes Cathedral School.
The host school Catholic had just five varsity wrestlers on their senior night, which made it tough to accumulate team points.  At any rate, Cassville beat Catholic 63-6 and beat Central 42-27.
This is Cassville's first season with a varsity wrestling team, and the young squad impressed their coaches and their opponents on Thursday.
"I think we're an aggressive team," said Cassville head coach Nathan Fortner.  "They listen and they want to learn.  They're really excited about the sport.  They've never seen it in Cassville and they've never really been around it, so to be around it and to be actually doing it here, they're a tough bunch and they're excited about doing it.  They're ready to learn every day when they come in the room."
The Wildcats gained some experience last year with a junior varsity squad.  But this year's varsity is ready to take the program to the next level.
"They're real strong.  They've definitely improved a whole lot since last year," Central coach Brian Pyck said of Cassville.  "They're filling almost a full lineup, so it's great to see a lot of numbers out for wrestling and some depth.  They had a lot of JV.  And the coaches are working real hard and they come from a good background too."
Jose Melchore (145 pounds), Wyatt Goade (170 pounds), Kyle Ruark (182 pounds), Steven Hunter (195 pounds) and Devin Phelps (285 pounds) each earned wins for Cassville in the close dual against Central.  Goade's victory came as a 9-3 decision, and Hunter beat his opponent 6-0, but all of the other Cassville victories came as a win by fall.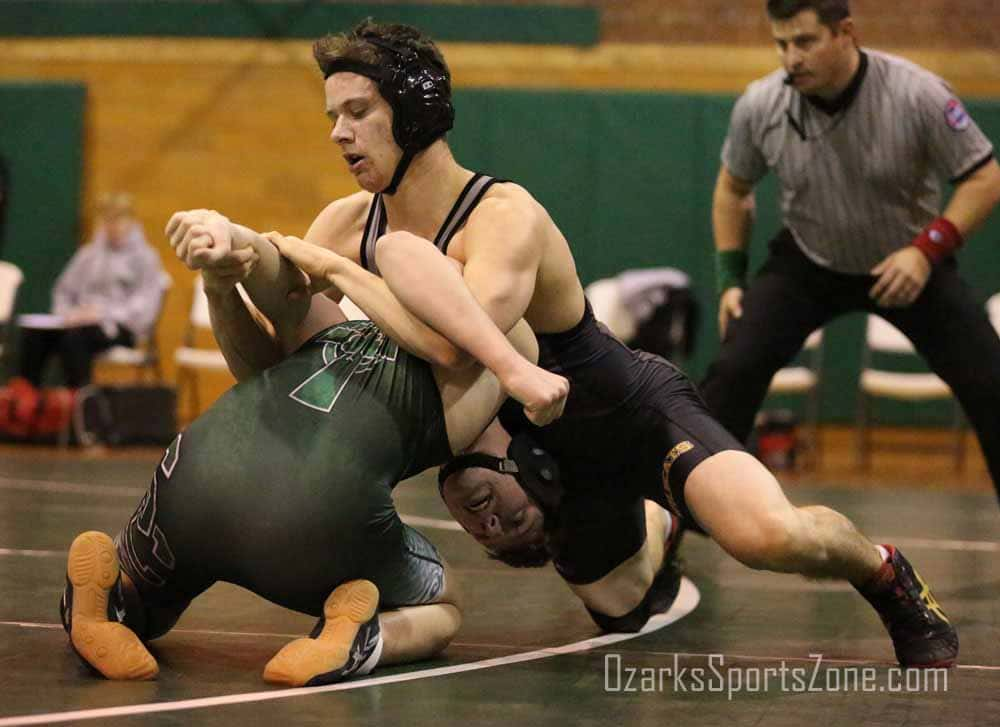 Goade, Ruark and Hunter also earned wins in their matchups with Catholic, giving those three wrestlers two victories on the night.
"As a team, I could pick out things from each individual wrestler that they've made improvements on," Coach Fortner said of his team.  "I can definitely tell from the beginning of the year until now that they're starting to look more like wrestlers."
Springfield Central split their duals on the night.
The Bulldogs started off hot against Cassville with Kelly Stone (120 pounds) and Steven Maples (126 pounds) both pinning their opponents.  Patrick Rogers also beat his opponent in an 8-6 decision at 132 pounds, but Cassville came back strong to win the dual and earn the sweep.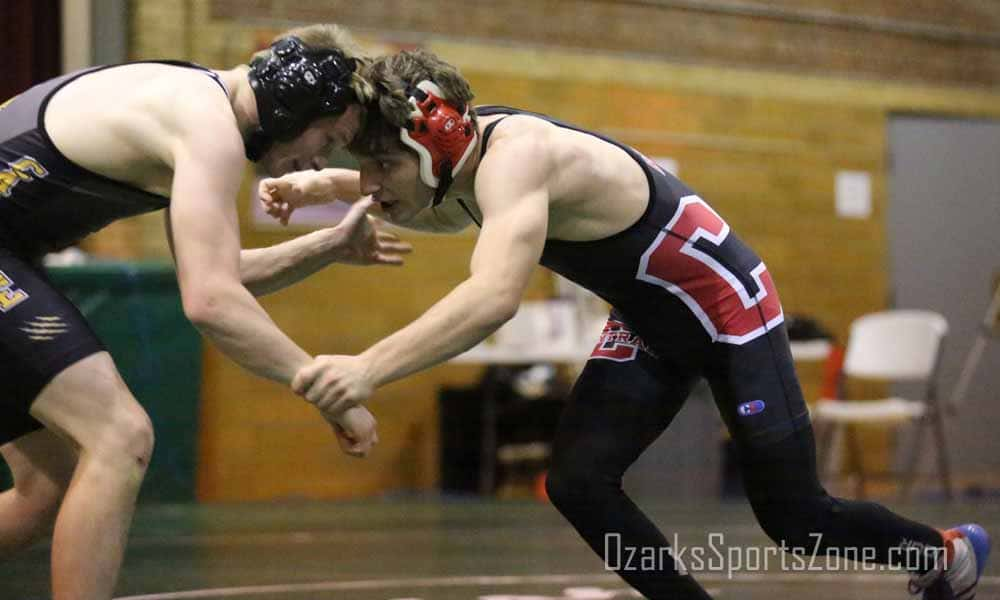 "I saw a lot of intensity [from my team]," said Coach Pyck.  "There are some new things that we are working on in the practice room that the guys are starting to try and they are putting into effect, so I like seeing that."
With just five wrestlers active on Thursday, Springfield Catholic is focusing on individual development with the wrestlers they have.  Nate Page was able to beat both of his opponents at 145 pounds in the triangular, including the team's only win in the dual against Cassville.  Jacob Straus and Jordan Edens both picked up wins in their dual against Central.
Like Cassville, Catholic's program is also young in its existence.  Coach Andy Lokie's main focus is on developing his small group of guys on an individual basis to help them achieve their goals.
"I want to do as much as I can to get our wrestlers into a position of qualifying for state," Lokie said.  "That's another way to evolve the program – to get kids qualifying for state.  You get noticed, and we really need to be pulling more kids in recruiting… A good coach tries to stir that individual effort and desire, so I want them thinking about what their goals are and developing those things and evolving them.  That's my task as a coach and that's what I'm trying to do."
Cassville will build momentum from this first season in hopes of establishing a competitive program in the years to come.
"Our main goal is when we come in to practice every day, we preach about getting better every single day," Fortner said.  "Find some way to be productive, because it's a monotonous, grinding sport.  It really is.  You're beating on each other every single day.  We try to have fun with them and make some different drills and situations competitive.  They enjoy it and they're doing well.  I'm proud of them."