By Matt Turer — mturer@ky3.com
@MattTurer
Cabool, Mo. — Both higher seeds advanced to the Cabool Holiday Tournament semifinals in the bottom half of the bracket, but both did so in opposite ways. Two-seed Thayer held off a trio of 10-seed Cabool surges while 3-seed MV-BT/Liberty erased a six-point halftime deficit against 6-seed Eminence.
Recaps and photos of both games below.
Thayer stymies Cabool rally to reach semifinals — CLICK FOR PHOTOS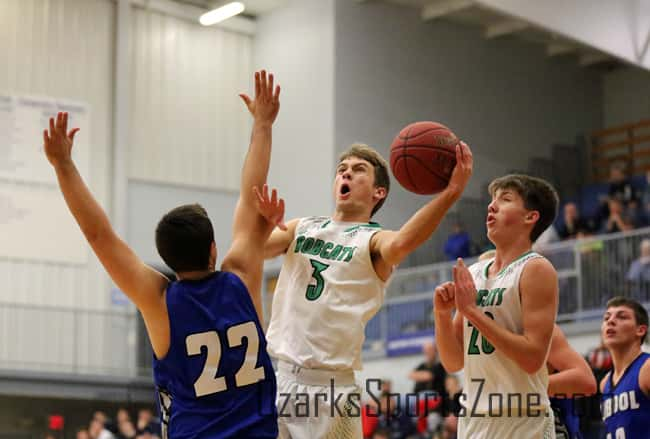 Thayer took a few jabs from a resilient 10-seed Cabool team Tuesday night but managed to deftly parry each haymaker thrown by the Bulldogs, calmly fending off the hosts in the Cabool Holiday Tournament quarterfinals, 71-59.
Cabool cut a 14-point Thayer lead to five with 4:59 to play, but Thayer responded by pushing its shrinking advantage up to 62-51 in 2.5 nearly flawless minutes of basketball that started and ended with the Bobcats' now-patented composure.
"We have a lot of guys who were only JV guys last year, but those guys have been in the fire and played in some big games already this year. They excelled in that spot (tonight) and didn't panic and they kept doing what they needed to do even when it got close," Thayer head coach Matt Pitts said.
The 2-seed Bobcats (9-1) graduated four starters season, only bringing back Zyman Langley, who finished with 13 points and defines what makes this Thayer team special in crunch time.
"When it got kind of rough right there, Zyman never panicked," Pitts said. "Zyman's expression never changes. You can't tell whether he's got 30 points or whether he's turned it over 100 times."
Thayer, which has won nine straight, outscored Cabool 28-26 in the fourth after entering the frame up 43-33 after a 19-11 advantage in the third.
"We've typically played a little better in the second half," Cabool head coach Brad Shockley said. "[Thayer] did a good job of controlling our transition baskets. We kind of rely on some transition with our threes."
As it has been for Cabool all season, the Bulldogs lived and died by the three. The Bulldog-heavy crowd let out a raucous roar at each of Jon Smith's six three-pointers—three of which came in a high-energy and high-scoring fourth quarter—but most shots that pulled up from deep found iron instead of net.
"Jon shot the ball well but, other than that, I don't know if anyone else hit a three," Shockley said.
"[Thayer is] such a solid club. When we needed to make a big shot, they made a big defensive stop. We got passive there late and quit going to the basket. Good things were happening for us when we'd penetrate and kick but we just quit going to the basket for whatever reason."
Smith finished with a game-high 24 points and, as Shockley stated, was the only Bulldog to connect from deep. But that wasn't the only concern for Shockley.
"Our inside game was not very good again tonight," he said. "It's only the second ballgame we've really been challenged. Thayer is a tough team. They did the stuff they needed to do late in the ballgame and we didn't."
The only other Bulldog to reach double figures was Colton Hensley with 10 points.
But where Cabool struggled to find expansive offensive production, Thayer excelled. Four Bobcats reached double figures and Dagen Jones was a bucket away from making that five. That depth is a big reason why the Bobcats have shot up to No. 5 in the Class 3 state rankings after beginning the season unranked.
Kobe Meyer and Ayden Stone both finished with 17 points for the Bobcats and Jalen Andrews scored 10.
"These guys really like each other and they like to play together," Pitts said. "There's not a selfish bone in any of them."
Cabool pulled within 64-57 with 90 seconds to play but Thayer closed the quarter on a 7-2 run. The Bulldogs made an early push in the first half, bringing themselves with 22-20 of Thayer after trailing 20-10 early in the second quarter.
A Smith three cut Thayer's lead to 47-40 with 5:55 to play and it was Smith again that brought Cabool within 48-43 with 4:59 left.
Meyer put Thayer back up double-digits with a transition layup late in the fourth quarter.
Thayer faces 3-seed MV-BT/Liberty at 4:30 p.m. in Wednesday's semifinals. The Bobcats beat Liberty, 64-57, on Dec. 3 in the Thayer Tournament championship.
FINAL: Thayer 71, Cabool 59
Cabool 9 13 11 26 – 59
Thayer 13 11 19 28 – 71
Cabool- Jon Smith 24, Colton Hensley 10, Titus Atkins 7, Bailey Williams 7, Jordan Primanzon 4, Brett VonAllmen 5, Caleb Manning 2
Thayer- Kobe Meyer 17, Ayden Stone 17, Zyman Langley 13, Jalen Andrews 10, Dagen Jones 8, Jordan Miller 6
Liberty uses second-half surge to get past Eminence — CLICK FOR PHOTOS

MV-BT/Liberty erased a six-point halftime deficit in the first five minutes of the second half as the 3-seed charged past 6-seed Eminence, 74-61.
Liberty (9-4) held Eminence (4-4) to four points in the third quarter after allowing the Redwings to put up 15 and 20 points in each of the first two quarters, bolstering a 35-29 halftime lead for Eminence.
Liberty's athleticism and length took over in the second half, forcing Eminence's guards into turnovers that resulted in easy transition buckets. The game seemed all but over after 6'8" Shalin Stout threw down a two-handed dunk late in the fourth quarter. Stout finished with 16 points.
Three Eagles finished in double figures and six scored at least seven points.
Grant Dyer's 19 points led Eminence and was tied with Liberty's Josh Pruett for the game-high.
Liberty faces 3-seed Thayer at 4:30 p.m. in Wednesday's semifinals. The Bobcats beat Liberty, 64-57, on Dec. 3 in the Thayer Tournament championship.

FINAL: MV-BT/Liberty 74, Eminence 61
Eminence 15 20 4 22 – 61
Liberty 14 15 16 29 – 74
Eminence- Grant Dyer 19, Kyndal Copeland 14, Ethan Drake 14, Wade Dyer 8, Reece Parish 7
Liberty- Josh Pruett 19, Shalin Stout 16, Matthew Coatney 15, Brenton Bush 9, Andrew Holden 8, Kole Orchard 7