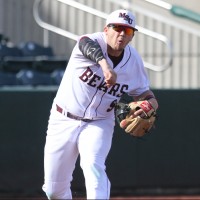 TUCSON, Ariz. – Missouri State junior third baseman Jake Burger was one of 81 Division I baseball players picked by Collegiate Baseball for 2017 preseason All-America honors on Monday. Burger, who earned All-America honors in each of his first two seasons with the Bears, was chosen for second-team honors as one of just three Valley players selected by the organization for its preseason All-America squads.
Burger, the National Collegiate Baseball Writers Association's District VI Player of the Year and a consensus All-American in 2016, led the Bears in batting (.349) and RBIs (72) last spring to earn a spot on USA Baseball's Collegiate National Team over the summer. The Chesterfield, Mo., native was also named the top defensive third baseman in the country as one of nine NCAA Division I standouts selected for the ABCA/Rawlings NCAA Division I Gold Glove Team.
A second-team All-America pick by Collegiate Baseball in 2016, Burger is just the fourth Missouri State player overall (along with Nick Petree in 2011-13, Mark Bailey in 1980 and 1982 and Ken Watkins in 1969-70) to garner All-America recognition in multiple years. The Missouri Valley Conference's Defensive Player of the Year was a semifinalist for both the Dick Howser Trophy and USA Baseball's Golden Spikes Award last spring after clubbing 21 homers, good for the No. 2 spot on the Division I home run leaderboard behind fellow Bear Spencer Johnson. Burger became the second Bear in as many years to be named the league's top defensive player after committing just two errors in 138 total chances at the hot corner, good for a .986 fielding percentage, including a string of 34 consecutive error-free games to wrap up the season.
In 2015, Burger became just the third MSU freshman in the 52-year history of the program to be named an All-American with his third-team selection by Collegiate Baseball. He wasted little time in establishing himself as one of The Valley's top corner men in his rookie season, totaling a team-high 78 hits and a Missouri State freshman record 22 doubles, while batting a club-best .342 for the Bears' MVC championship squad that posted a school-record 49 wins on the way to the program's second NCAA Super Regional berth and a No. 12 final rank in the national polls.
Missouri State, which finished as the MVC Tournament runner-up with a 38-21 overall mark last spring, will open its 2017 campaign Feb. 17 in Lake Charles, La., where it will take on Rhode Island to open play at the Lake View Classic.