Coming off the program's first ever state championship, the Hartville boys expected a little more respect than being seeded third in the season-opening Clever Tournament.  Well, they went off and proved the doubters wrong by "upsetting" the two-seed Fair Grove in the semifinals and then the top seed and host Clever in the championship.
"They seeded us three and we thought we were supposed to be the one, so we went out there and proved them wrong I guess," said senior guard Dune Piper.
"There's no pressure," said senior guard Deric Jones.  "People think we're going to be worse this year because we lost all that scoring, but like we were last year we're ready to prove the doubters wrong."
One man who certainly isn't doubting the Eagles is their newest fan, NBA superstar Lebron James.
"One day a box shows up in the office and it's a big old box full of Lebron basketball shoes, letters and shirts," said Hartville head coach Brett Reed.
Reed intended to make the special shipment a surprise for his team, but the cat was out of the bag sooner rather than later.
"We kept saying, 'where's the shoes? Where's the shoes? Where's the shoes?'", said Jones.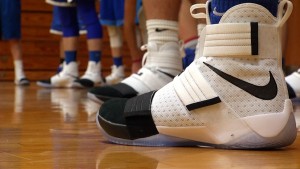 Following the Clever championship, Reed finally handed over the shoes, along with a special letter to each player.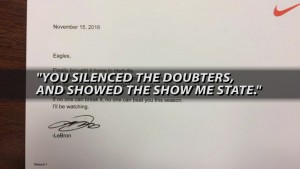 "You silenced the doubters, and showed the Show-Me State.  But most important, you started as a team and finished as a family," Lebron James wrote.
"He's already the best basketball player in the world and now to know that he actually does care about people below him, he wants to see people grow, that means a lot," said Reed.
"You never see those guys looking back toward the little guys, but I guess they care more than I thought they did," said Piper.
Reed said he wasn't necessarily a fan of Lebron's prior to this, but a gesture like this certainly doesn't hurt.
"I don't know that I was a fan, but I'm definitely a bigger fan now," said Reed.
Hartville was one of dozens of state champs across the country to receive this special tribute, including the Strafford girls, but that makes it no less special for this proud Ozarks community.
"Just for Nike or Lebron James to notice what little old Hartville is doing, it's a very nice gesture, we're very appreciative and grateful," said Reed.
The Eagles' bid for a state championship repeat is off to a good start.  Class 2 top-ranked Hartville blew out Summit Conference rival Fordland (5-1) Friday night, moving to 5-0.