By Matt Turer — mturer@ky3.com
@MattTurer
Forsyth, Mo. — The Forsyth Invitational is set to have a pair of teams in Saturday night's final that have never won a title in the tournament's 56-year history thanks to wins by Walnut Grove and West Plains on Friday. Recaps of Friday night's games are below.
CLICK HERE FOR WALNUT GROVE VS. FORSYTH PHOTOS
CLICK HERE FOR WEST PLAINS VS. HOLLISTER PHOTOS
Walnut Grove uses big third quarter to pull away from Forsyth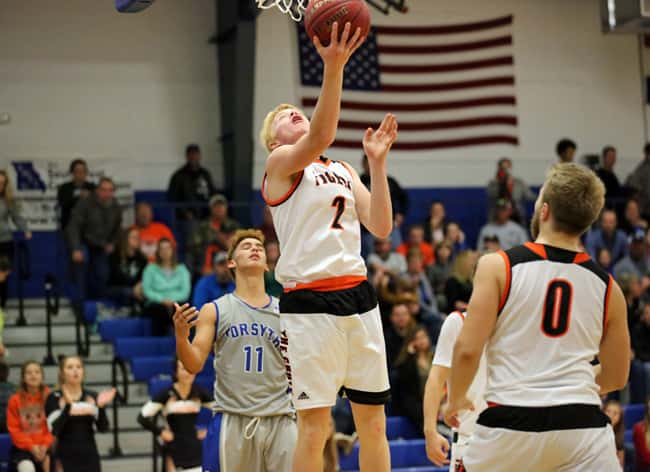 For a while Friday night, it looked like it was the Micaiah Rocha show.
Rocha scored 15 of Forsyth's 16 first-quarter points on his way to 22 in the first half, but Walnut Grove's depth proved too much as the Tigers pulled away from Forsyth in the second half in an 81-70 win, securing a spot in Saturday's Forsyth Invitational championship against West Plains (2-0).
Walnut Grove (3-0) led Forsyth (1-2), 42-33, at halftime before using a 17-1 run to open the third quarter and build that lead to 59-34.
"[Rocha] was killing us in the first half," Walnut Grove head coach Darin Meinders said."We just stressed knowing where he's at and not losing him.
"I think our kids kept the pressure up the full game and I think it took a tole on him eventually. I was really proud of the effort our kids put out."
Logan Thomazin led Walnut Grove in the first half with 14 points, finishing with a team-high 27, including hitting three three-pointers.
The Tigers used a barrage of threes and fast-break points to wear down Forsyth early the third quarter, but the Panthers were able to stick around by getting to the foul line 28 times in the game (20-28).
"Forsyth is a heck of a team," Meinders said. "They're very athletic and very talented. We finally got on a little roll and hit some threes. We can be a tough team to match up with when we get everybody shooting the ball and playing hard."
Four Walnut Grove starters finished in double digits, including Hunter Gilkey (20), Dawson Meinders (12) and Jaron Dishman (12).
Last year's Class 1 state runner-up, Walnut Grove is set to face Class 4 West Plains for the tournament title.
"West Plains is a big school. Physical. We know it's going to be a battle, but that's the reason we come to this tournament. To face the bigger, stronger teams to get us ready for later down the road," Meinders said.
Walnut Grove 81, Forsyth 70
Walnut Grove 17 25 22 17 – 81
Forsyth 16 17 16 21 – 70
Walnut Grove – Logan Thomazin 27, Hunter Gilkey 20, Dawson Meinders 12, Jaron Dishman 12, Ryan Keith 6, Cory Countryman 4
Forsyth – Micaiah Rocha 35, Anthony Stanford 19, Trey Henson 6, Brye Mann 5, Cameron Davis 3, Chase Davidson 2

Steady attack paces West Plains in semifinal win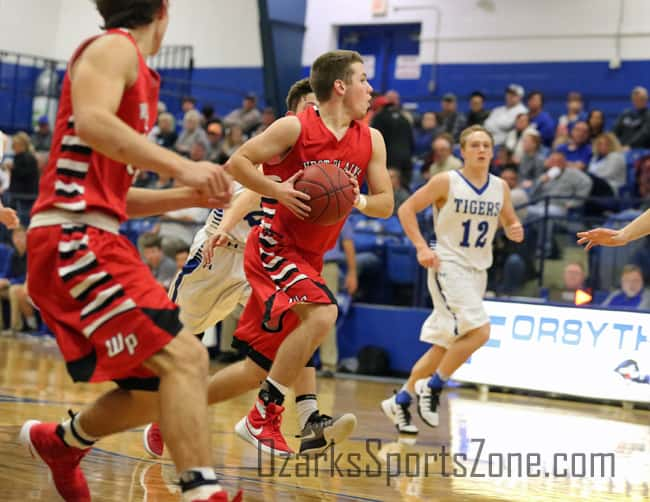 Strength in numbers. That's what West Plains is throwing at its opponents early on this season. Nine of 10 Zizzers finished with points in Friday's 63-53 win over Hollister (2-1), helping secure a spot in Saturday's final against Walnut Grove.
"We've been working on our chemistry," West Plains head coach Kevin Smith said. "They never know who's going to be in. I've been playing 10 guys quite a bit, and they're starting to by into that and that if you play well, you might play longer."
Hollister found itself leading 13-11 in the first quarter thanks to an up-tempo attack, but West Plains' sturdy style locked the Tigers in at 13 as the Zizzers went on a 14-0 run to stake a 25-13 lead in the second quarter.
West Plains wouldn't let Hollister grasp momentum from that point, leading 32-26 at the half but never letting the Tigers pull too tight in the second half.
Hollister's Derek Morris finished with a game-high 28 points and Zach Crawford finished with 13, but no other Tiger reached double-digit points.
The height of Crawford and Morris was a concern for West Plains—the two are taller than anyone on the Zizzers' roster—but Smith had the Zizzers prepared for that challenge in the paint.
"We really worked on some boxing out drills," Smith said. "Hollister got a few good boards on us, but we thought that was one of our keys was to try to box them out the best that we could and maybe gang rebound, keep it alive, tip it and let somebody else get it."
West Plains' only appearance in the Forsyth Invitational finals came in 2013, losing to Branson, 62-40.
"We're just glad to be [in the championship]," Smith said. "We know Walnut Grove is a very good club. They'll be very tough for us, but we're looking forward to it."
West Plains 63, Hollister 53
West Plains 19 13 17 14 – 63
Hollister 13 13 10 17 – 53

West Plains – Mitchell Mahan 15, Clay Butler 10, Austin Wood 10, Dalton Ross 8, J.D. Mulford 7, Garel McGinley 5, Jay Talton 4, Camdon Murphy 2, Landry Randolph 2
Hollister – Derek Morris 28, Zach Crawford 13, Landon Farquhar 7, Jackson Bekemeier 3, Jesse Wright 2