By Matt Turer — mturer@ky3.com
@MattTurer
Springfield, Mo. — While Glendale fans and cheerleaders came dressed like it was Christmas morning, the only presents under the tree at Lowe's Stadium Friday night were found in the hands of Cade Brister.
The Fort Zumwalt North quarterback was a little bit Tim Tebow and a little bit Ed Reed on Friday, rushing for 197 yards and five touchdowns while intercepting Glendale quarterback Alex Huston three times from his free safety position on defense, and adding a forced fumble for good measure, in the Panthers' 52-22 win.
CLICK HERE FOR FT. ZUMWALT NORTH VS. GLENDALE PHOTOS
"We really wanted this one," Brister, who has 10 defensive interceptions this year, said. "After watching film, top passing team in the nation, we really wanted to get this one. Our [coaches] did a great job with all the stunts and man coverage and getting us physical and ready for this game. Our preparation was key."
If the idea for Glendale was stop Brister, stop the Panthers, the idea for Fort Zumwalt North needed to be stop Huston, stop the Falcons.
Huston, the nation's leading passing quarterback, had thrown for 5,790 yards coming into Friday's quarterfinal, an average of 526 yards per game. Huston was well under that average Friday, finishing 28-44 for 310 yards, three touchdowns and three interceptions. The Panthers held him to 108 yards on 8-16 passing in the first half, with his two first-half interceptions both turning into Zumwalt North points, aiding a 31-6 halftime deficit.
The Panthers led, 7-0, under two minutes into the first quarter after Brister scored on a three-yard zone-read keeper. That lead grew to 14-0 under three minutes later when Deiondre Stockton scored on a 14-yard touchdown after a short drive set up by Huston's first interception.
Glendale would turn the ball over on downs at their own 42-yard line on its following drive and the Panthers would add a Matt Bennick field goal to go up 17-0.
"A play or two can change the momentum of the game," Glendale head coach Mike Mauk said. "We didn't get off to a good start. We didn't make a couple plays in key situations. They had a great gameplan and did a tremendous job on offense and defense."
Huston connected with Max Nichols for a 40-yard pass late in the first quarter, but Brister knocked the ball loose from Nichols at the Panthers' five-yard line—the second of five Glendale turnovers.
Following Nichols' fumble, Brister led the Panthers on a 93-yard scoring drive, running it in himself from the one-yard line and pushing the Zumwalt North lead to 24-0.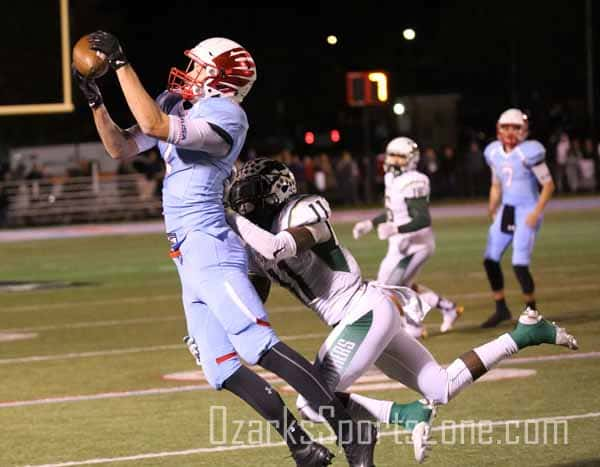 Glendale's defensive line was overmatched by Fort Zumwalt North's offensive line the entire night, with the taller, heavier Panthers lineman continually getting a big push off the ball.
"Our o-line is very strong," Brister said. "But watching tape, [Glendale has] a really good team up front. But just going in, I know we've got a great line. A lot of seniors and a couple juniors, and we just pound the football. It's a lot of fun."
The Panthers carried the ball 67 times for 438 yards.
Stockton had 140 yards on 17 carries. Jack Ederer had nine carries for 65 yards and a touchdown.
"They had a very good offensive line," Mauk said. "They came off the ball hard. They had good running backs. They had a lot of speed and quickness and they just gave us a lot of problems. We had a hard time trying to slow them down, let alone trying to stop them."
Huston got Glendale its first points with 4:52 remaining in the first half, hitting Von Oeser for a three-yard touchdown after a 74-yard drive aided by 52 penalty yards.
The Falcons trailed 46-14 through three quarters. Huston found Spencer Wester for an eight-yard touchdown early in the fourth quarter, bringing the Falcons within 45-22.
"Our kids competed," Mauk said. "We didn't make the plays we like to make. Congratulations to [Fort Zumwalt North]. They're a very good football team and they were the much better team tonight."
Brister was 6-9 passing for 67 yards. He hasn't thrown an interception all season.
Jeremy Almeida led Glendale's receivers with 78 yards and a touchdown on nine receptions. Von Oeser had 71 yards and a score on nine receptions. Leading receiver Luke Montgomery was limited all night by Zumwalt North's pass defense, finishing with just four catches for 76 yards.
The Panthers, not known for putting a lot of pressure on opposing quarterbacks, hurried Huston on the majority of his dropbacks, sacking the junior four times.
Zumwalt North used all of the final 7:08 of the clock on its final drive, entering victory formation at Glendale's six-yard line.
Glendale ends the season 13-1, an impressive jump for a program that has found itself under coach Mauk's system.
"I'm very proud of what our team achieved and accomplished," Mauk said. "They had a great season. It's very hard to end on a loss. There's no doubt about that. But the effort our kids gave throughout the course of the year to prepare them for the season and what they did, as disappointed as they are tonight, I know they're going to be very proud of what they achieved and accomplished. They set a new standard for us to emulate in the years to come, and I'm very proud of what our players did."
Fort Zumwalt North 17 14 15 6
Glendale 0 6 8 8
1st Quarter
10:08 — Brister, 3-yard run (XP GOOD) — 7-0 FZN
7:31 — Stockton, 14-yard run (XP GOOD) — 14-0 FZN
3:16 — Bennick, 29-yard FIELD GOAL — 17-0 FZN
2nd Quarter
7:46 — Brister, 1-yard run (XP GOOD) — 24-0 FZN
4:52 — Huston 3 yards to Oeser (2-PT FAIL) — 24-6 FZN
0:33 — Brister, 3-yard run (XP GOOD) — 31-6 FZN
3rd Quarter
4:52 — Ederer, 26-yard run (2-PT GOOD) — 39-6 FZN
2:34 — Huston 12 yards to Almeida (2-PT GOOD) — 39-14 FZN
0:20 — Brister, 3-yard run (2-PT FAIL) — 45-14 FZN
4th Quarter
10:44 — Huston 8 yards to Wester (2-PT GOOD) — 45-22 FZN
8:00 — Brister, 2-yard run (XP GOOD) — 52-22 FZN