By Kai Raymer (kraymer@ky3.com)
Who's ready for some district volleyball?! The action comes hard and heavy next week, as districts play their opening rounds on Monday and most have their semifinals and finals on Tuesday.
Here's an outlook on our local district tournaments, and maybe a few predictions as to who could be moving on to the state playoffs…
CLASS 3 DISTRICT 11 @ MARSHFIELD HIGH SCHOOL – CLICK HERE FOR THE BRACKET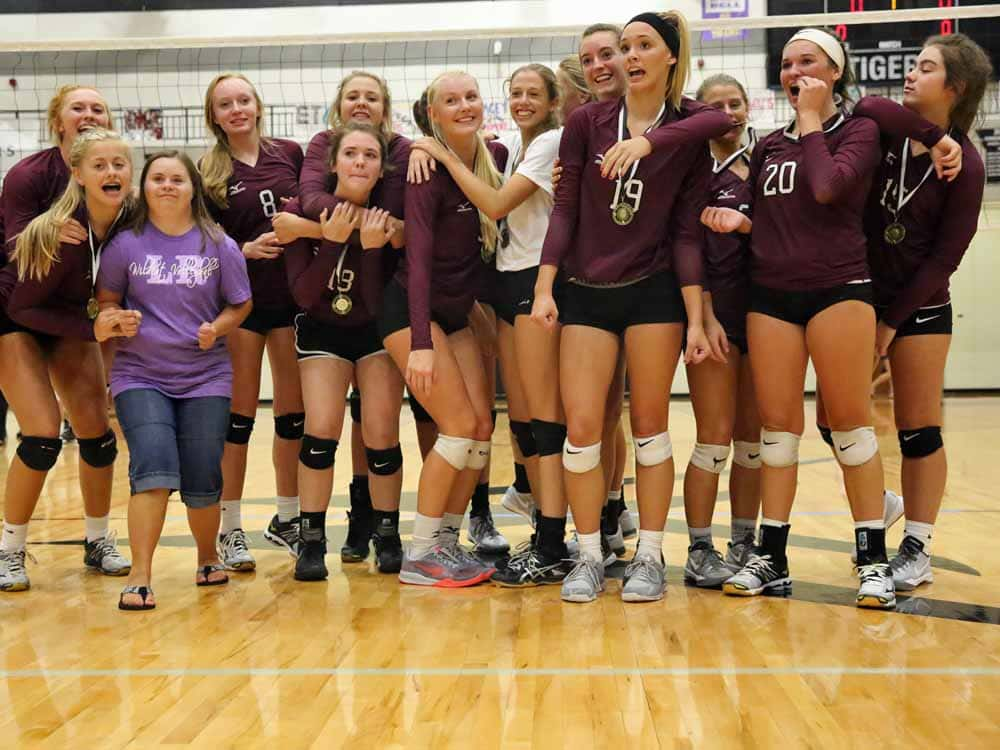 Rogersville hasn't always entered districts as the favored No. 1 seed, but the Wildcats have still reeled off four straight district championships and are set up to make it five in a row on Tuesday.
The favorite: Rogersville's one of the best Class 3 teams in the state, and if not for being stuck in the same sectional pod as fellow powers Pleasant Hill and Helias Catholic in recent years, the Wildcats would have some final four banners hanging on the gym wall.
Rogersville won at Rogersville on Thursday night to finish 29-4 overall and with another outright league title (five since 2010) to its credit.
Rogersville's only losses have come to Kickapoo (season opener), Ozark and a pair of Arkansas schools (Ft. Smith Southside and Fayetteville). Ozark was the only team of those schools to beat Rogersville in straight sets.
The Wildcats are also playing very well heading into districts, winners of 18 in a row. The schedule has admittedly eased up a bit since a tough early-season stretch, but Rogersville has dominated in a way you'd like to see from a potential Final Four team.
There's a lot of good wins in Rogersville's portfolio: Carthage, East Newton, Winona, Willard, Aurora, Fair Grove and Camdenton among them. Class 3 is a bit down this year locally, but Rogersville has also been that much better than everyone else.
Rogersville freshman Birdie Hendrickson has backed up the preseason hype, leading Rogersville in total kills (294) and ranking second in digs. Older sister Hanna Hendrickson (212 assists, 139 kills) will push for all-region and all-state honors herself.
Junior McKenna Miller (478 assists) is Rogersville's primary setter. Defensively, junior Ashley Pitts (194 digs) and senior Ashley Pierson (153 digs) play key roles in the back while senior Bay Ivie has a team-high 56 blocks up front.
The good news for Rogersville? They would host on sectional/quarterfinal Saturday AND Pleasant Hill is no longer in their pod.
The bad news? Helias Catholic still looms and Rogersville would meet the Crusaders in Saturday's first match, with the winner advancing to likely play Aurora or Union for a trip to state.
The spoiler(s): As long as Rogersville shows up healthy and focused, I expect them to win this district. But whom they'll meet in the semifinals and finals is up in the air. There are some upset possibilities among the No. 2-No.6 seeds.
Mountain Grove, the No. 2 seed, has locked up a winning season with Amy McNew back at the helm. The Panthers lost 2-0 at Rogersville in late August and their best wins have come against Class 1 and 2 competition, but they have taken sets against the likes of Willard, Willow Springs, Republic, and Winona.
District seeding was done before the meeting, but Mountain Grove lost 2-0 at home to No. 3 seed Marshfield earlier this week. The Panthers also didn't play Catholic, Hollister or Reeds Spring in the regular season.
Marshfield has played better since a rough mid-season stretch. The Blue Jays (14-15-1 overall) were 5-9-1 after a road loss to Bolivar on Sept. 20. With wins over Mtn. Grove, Springfield Catholic, Hollister and Reeds Spring, Marshfield would've been the No. 2 seed here had it played Mountain Grove earlier in the season.
Springfield Catholic (19-9 overall) will hope for a fresh start in districts. The Irish were poised to reach 20 wins in the regular season, but have now lost four straight after dropping their regular season finale at Crane.
Setter Sophie Edwards (528 assists) has exceled in forming Catholic's attacks this season. Shelby Boyer (219 kills) has had a solid season offensively while Hannah Ast (455 digs) is a defensive cornerstone.
Hollister is a frisky No. 5 seed. The Tigers' own wins over Marionville, Forsyth, and splits with Mt. Vernon and Pierce City. They've faced good non-conference competition, too: Hillcrest, Aurora, Clever, Strafford, Carthage, Branson and West Plains.
Junior Raven Ross has blossomed into a cornerstone piece for Hollister. She averages about 7 kills per match and also adds 4.3 digs per set. Coach Cindy Swatek said she's the "hardest worker in the gym and a humble leader."
Hollister senior Skyler Bruck (3.0 kills per set, 2.8 assists per set) plays all over the court. You'd be hard-pressed to find a more active libero than Hollister senior Caylee Kaempfer.
The "backbone" of the team according to Swatek, Kaempfer averages 7.8 digs per set and has a serve-receive rating of 2.6 (out of 3.0). Kaempfer already owns the school's single-game record for digs (35 vs. Marionville) and is one pace to become the single-season leader in that category as well.
Reeds Spring (16-18 overall) earned its best win of the season on Oct. 6 with a 2-1 victory at a 20-win Bolivar squad. The Wolves lost to Marshfield and Hollister in three sets in conference play.
CLASS 3 DISTRICT 12 @ SENECA HIGH SCHOOL – CLICK HERE FOR THE BRACKET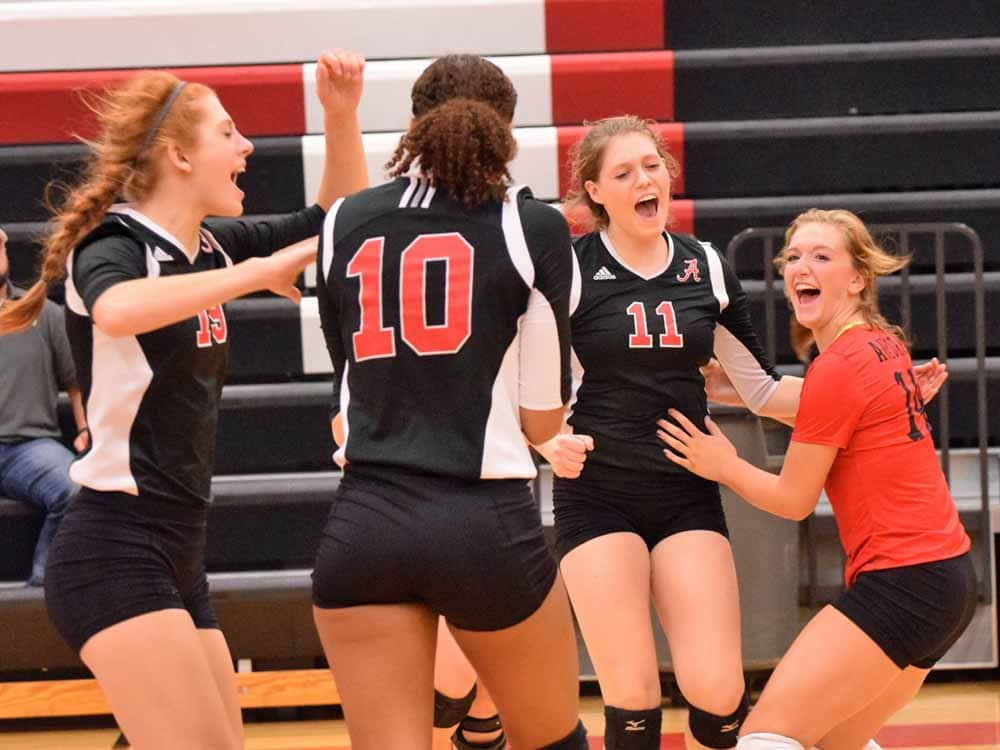 We go to the fringes of SWMO for this nearly All-Big 8 district tournament that has five teams with 10 more losses. Upset possibilities! Parity!
The favorite: Aurora (20-10-1 overall) ran the table in the Big 8, not dropping a set to a league opponent all season. The Houn' Dawgs are now after their third straight district championship.
Looking at Aurora's schedule, the 10 losses can be a bit misleading because the Houn' Dawgs have been really good against teams in their own Class (10-1 vs. Class 3 competition, lone loss to Rogersville). Six of those losses have come to local Class 4 teams such as Willard, Carthage, Branson and Carl Junction. The only questionable loss came early in the season against Class 1 Green Ridge in the Willard Tournament.
Aurora has feasted on non-tournament competition since September. The Houn' Dawgs have won 12 such games in that span.
Aurora's in the midst of a good multi-year run. The Houn' Dawgs success is keyed by underclassmen, primarily juniors.
Emily Moore and Julia McVey top the stat chart in kills with 191 and 182, respectively.
Brooke Bellamy has been a welcome addition at the net as a freshman with a team-high 61 blocks, and junior Baylee Husmann also contributes there, too (53 blocks).
Junior Kaylee Huffman averages about a dozen digs per match. Rachel Negre (522 assists) has worked as setter all season.
The spoiler: Seneca (17-11-2) doesn't have any marquee wins, but they'll have home court and one of the tournament's top players – 6-foot senior MB/OH Morgan Henning – on their side.
Seneca's a vulnerable No. 2 seed. The Indians were 0-1-1 against No. 5 seed Mt. Vernon in the regular season, 1-1 against No. 3 seed East Newton and haven't faced Nevada yet.
Nevada (16-14 overall) will at least have anonymity on its side. The only Big 8 team Nevada played in the regular season was McDonald County (a 2-1 win). McDonald County was 5-0 in league play before losing its final two Big 8 games to East Newton and Aurora earlier this week, so make of that what you will.
Nevada's a team led by its senior class. Megan Hold (159 kills, 27 blocks, 150 digs) and Ellie Smith (122 kills, 106 digs, 245 assists) fill a lot of roles for the Tigers.
Mt. Vernon (16-12-3) is new to this district group. The Mountaineers suffered a sour end to their 2015 season when, despite a 28-4 record, they were bested by No. 2 seed Rogersville in the district finals.
Mt. Vernon graduated a lot of talent from that team and was slow out of the gates to start 2016, but have come on a bit over the last couple of weeks.
Mt. Vernon has gone a modest 5-2-2 so far this month. The latest win, over East Newton on Thursday night, marked the 100th career win for coach Bridgett Schmutz
Morgan Hull is among the area's leader in total kills with 302 over 70 sets.
Ashlyn McCanless (382 digs, 12.3 digs per match) has thrived in her first full season as a starting defensive specialist. Mt. Vernon's future at setter appears bright, too, as freshman Raelin Swillum has amassed 646 assists on the season (9.2 per set).
CLASS 3 DISTRICT 10 @ BUFFALO HIGH SCHOOL – CLICK HERE FOR THE BRACKET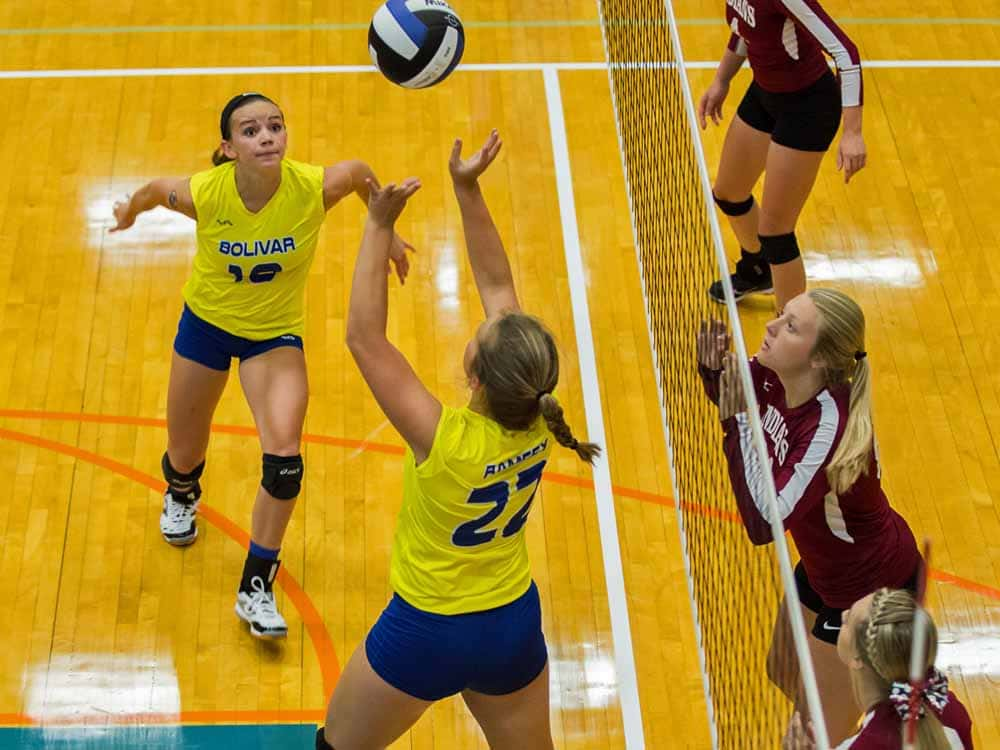 It would take the upset of all upsets for a local team to emerge from this district.
Buffalo and Bolivar are the only two local teams here. They play in Monday's semifinals and the winner is rewarded with a Tuesday night semifinals game against 29-3-2 overall Helias Catholic.
Win that, and you'll likely face a 30-1 overall Blair Oaks team in the finals.
While it looks like an all-Jeff City finals in Dallas County, I wanted to mention the good season Bolivar's had.
The Liberators (20-7-1 overall) hadn't reached the 10-win mark the previous three seasons. Bolivar's posted wins against decent-to-good competition: Ash Grove, Osceola, Mt. Vernon, Marshfield, Hillcrest and Nevada.
The highlight of Bolivar's season (thus far) came last weekend at the Clinton Tournament when the Liberators took down Nevada in three sets in the finals.
Bolivar's success is primarily based around four players, but two of them will be back next year.
Juniors Anna Wolf (283 kills, 55 total blocks) and Hope White (279 kills, 49 total blocks) shoulder much of the hitting duties. Senior co-captain Kelsie Barber leads in digs with 342, but White (176 digs) and Wolf (176 digs) also contribute there along with senior Kiley Ramsey (134 digs), whose primary role is setter (739 assists).
CLASS 4 DISTRICT 10 @ LEBANON HIGH SCHOOL – CLICK HERE FOR THE BRACKET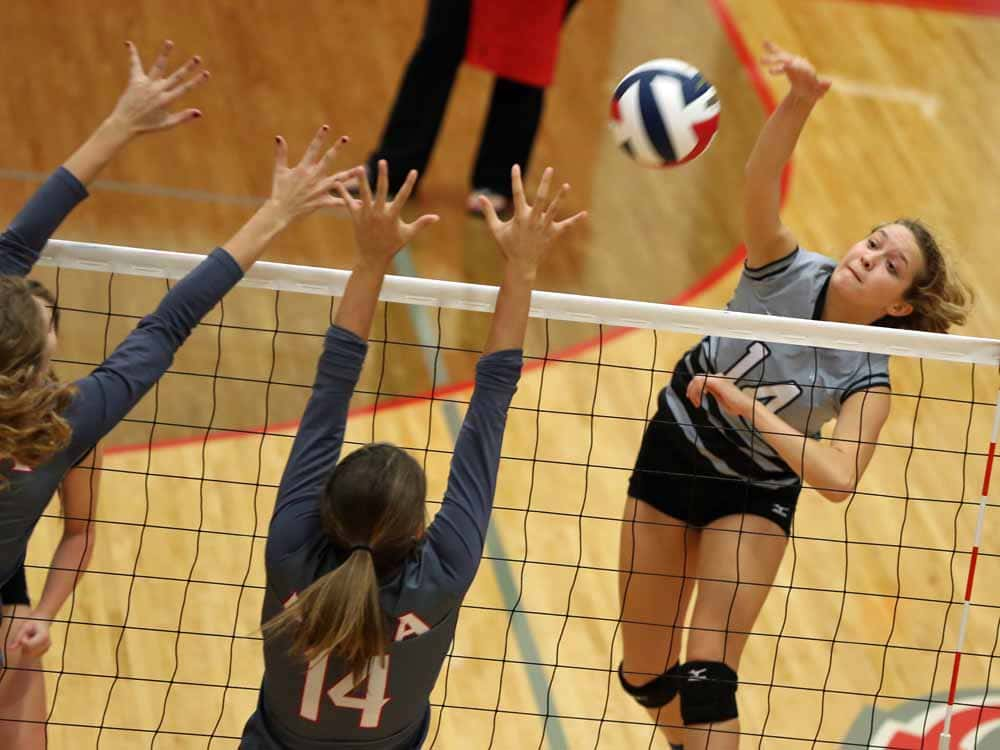 Willard's seeking its third straight district title but, like 2014 when it won at Waynesville, may have to defeat the host school in the finals.
The favorite: Willard's locked up another 20-plus win season and has faced every team but Rolla in this district. The Tigers are 7-0-1 against district opponents. The lone team to take a set against Willard? Camdenton, which earned a pool-play split at the Hillcrest Tournament.
Willard's a junior-dominant team that overcomes its lack of height with solid defense, good passing and a trio of primary hitters. Junior Kara Finkbiner (152 kills, 2.8 per set), freshman Emily Terry (133 kills) and senior Kaitlyn Williams (125 kills) all have over 300 attack attempts on the season. Terry (team-high 65 blocks) has added a lot of athleticism for Willard at the net.
Junior libero Kasey Brower (10.5 digs per match) will have some postseason honors coming her way. Brooke Willard (307 assists) and Lindsay Britton (217 assists) have given Willard's offense a new look after the graduation of three-year starter Kenzie Bouse.
Willard won't wow you in warm-ups, but this is a very good all-around team. Willard was on the brink of handing Ozark a home loss – and earning a share of the COC-Large crown in the process – on Sept. 29. Willard's the only local team to win a set against Ozark so far this year. Victory slipped through Willard's hands that night, but they bounced back less than a week later by whipping a really good Carl Junction team at home.
Willard's beaten Hillcrest twice (25-22, 25-13 and 25-19, 25-17) and prevailed in a home match with Lebanon in mid-September that was close in the first set (26-24, 25-13).
A potential early hurdle for Willard could come in the semifinals against Camdenton, which played the Tigers to a 25-21 (CHS), 14-25 (WHS) split at the Hillcrest Tournament in pool play.
The spoiler(s): A "swarm" of a student section will likely be backing up home-standing Lebanon.
Lebanon will enter district with some momentum on its side. The Yellowjackets are 3-1 in their last four games, with wins over Camdenton and Hillcrest and a lone loss to Glendale on the road in three sets.
Lebanon has enjoyed the return of senior co-captain Faith Alwardt, who missed all of last season with a knee injury. She's a big factor in the middle (4.6 kills per set).
Junior Jazzlyn Wells is another team captain for Lebanon and the team's defensive leader. She was named team defensive player of the year last season and is on her way to surpassing her digs record (340) from last season.
Senior Haddi Luthy runs Lebanon's 6-2 along with junior setter Carsyn Bowman. Luthy figures to earn all-conference honors for the second straight season.
Lebanon gave Willard a good run in the first set in the regular season meeting. The Yellowjackets trounced Hillcrest in a recent meeting and also own a pair of three-set wins over Camdenton and a 2-0 win against Rolla. Lebanon will meet Central in Monday's opening round, a team it beat soundly at home in late September.
Lebanon also handed Strafford its only loss of the season back in late August.
For a No. 3 seed, there's a lot to like about Lebanon's chances in this tournament, with home court on its side.
Hillcrest stands in the way in the semifinals, though. The Hornets (23-6-3 overall) have had their best season in a while, reaching the 20-win plateau for the first time since 2000.
Three of Hillcrest's six losses occurred in conference play. The others were to Class 3 Bolivar in three sets in the finals of the Clinton Tournament, and a pair of 2-0 losses to Willard.
Rachel Pfeifer (203 kills) and Sierra Baker (176 kills) are Hillcrest's primary targets for attacks. Pfeifer is also a very active blocker; her matchup with Lebanon's Alwardt in the semifinals should be a good one.
Hillcrest's offense flows through setter Kinsie Williams (343 assists), while Emily Henderson (194 digs) is one of the top liberos in the Ozark Conference.
The darkhorse: It's been an up-and-down season for Camdenton (16-11-4 overall), but the Lakers have the talent to give Willard a run in the semifinals. The Lakers have a three-set loss to Hillcrest and they've played rival Lebanon pretty tough.
Camdenton and Lebanon split a pair of meetings at the Lebanon Tournament on Oct. 1, with Camdenton winning 2-0 in pool play before Lebanon won 2-1 in the bracket round. Lebanon also won 2-1 over the Lakers, at home, on Oct. 6.
And again, the Lakers were the only team in this district field to win a set against top seed Willard in the regular season.
Camdenton's best players are senior Jordan Wolfe (222 kills, 3.8 per set, 46.3 kill percentage; 62 blocks) and Daphne Dinsdale (156 kills, 210 assists, 110 digs), who were both all-region selections a year ago.
The winner of this district advances to face the winner of District 11 in Saturday's sectional round.
CLASS 4 DISTRICT 11 @ BRANSON HIGH SCHOOL – CLICK HERE FOR TH BRACKET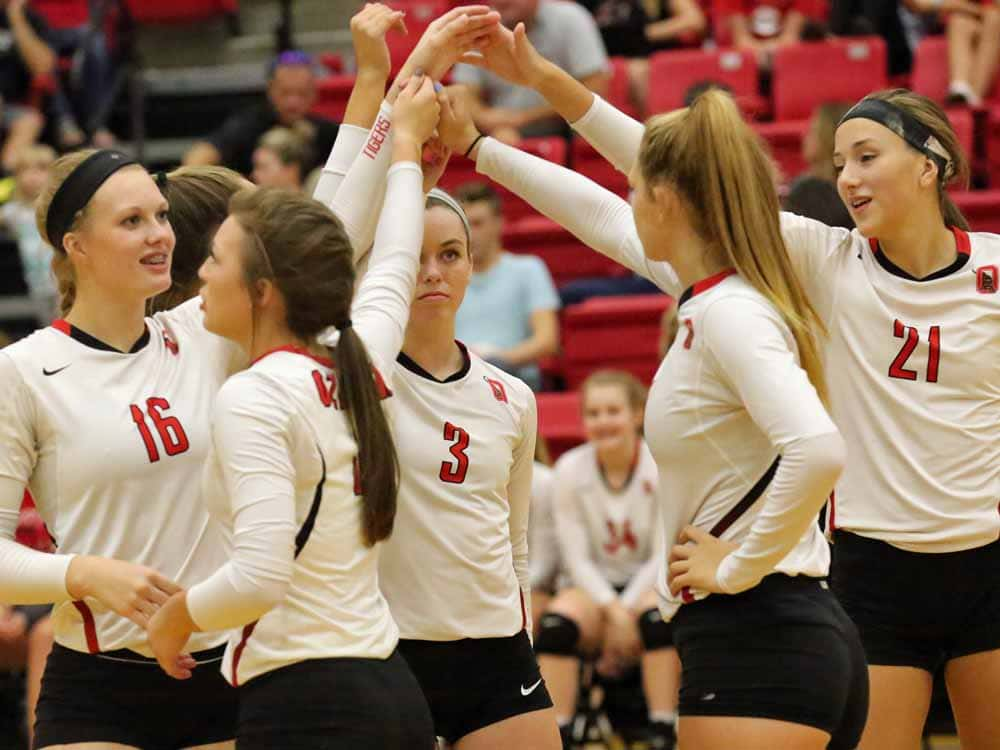 Is it fair to have four teams this good in the same district? You could argue No. 4 seed Glendale would be capable of winning either of the other two local district tournaments in Class 4.
The favorite: Names change, tradition doesn't at Ozark.
You know Ozark's history by know, seven straight Final Fours and all. State-wide, Ozark may not be in the upper-echelon compared to recent years, but this is still the best team we have locally.
The Tigers graduated a pair of Division I players in Kendra Sater and Paige Perry, but they've reloaded with depth at all positions.
Ozark has multiple future Division I and Division II players on its current roster.
Macey Putt, Sidney Branson, Lexie Johnston, Kaylan Smith Julia McCown and Katie Vorhies comprise a loaded OH/MB unit. Sidney Bach is the team's primary setter, but Ozark has more options after her. Brynn Bonewell, Holly Luginbill, Molly Taylor and Riley Thixton give Ozark depth in the L/DS positions.
Ozark's set up to be stronger in 2017 than it is now, but I still think they have favorable odds to go back to Cape Giradeau.
Ozark has wins over the No. 2-5 seeds in this district – Kickapoo, Glendale, Nixa and Branson – but Nixa has played them rather close in the first set in two meetings this year.
Ozark always plays with a swagger/confidence that shows up around this time of year. When you make seven straight final fours, you believe in yourself and program.
The spoiler(s): Getting out of the deepest district in the Ozarks won't be easy for the Tigers, though.
Start with No. 2 seed Kickapoo, which before its loss to Glendale shook things up a bit, had the best resume of anyone not named Ozark in the area.
Kickapoo owns a pair of wins over Nixa, played Class 3 power Helias Catholic to a three-set loss, and also beat Rogersville in three sets in its season opener. They've played strong out-of-area competition as well.
The Chiefs present a formidable all-around defense. Sophomore Azyah (163 kills, 92 blocks, 2.9 blocks per match) might be the best blocker in the Ozarks. Allison Long (192 kills) and Madison Bowles (164) are the primary hitters for a Kickapoo team that, like Ozark, shapes up to be even stronger in 2017 but is already really good now. Senior setter Kaelyn Faria (526 assists) keeps that trio happy.
Kickapoo has an arsenal of defensive specialists in the back, including Kamryn Artale (418 digs), recent Missouri State commit Leah Vokolek (292 digs), who's bounced back well from a knee injury, and Emily Cockell (218 digs).
Nixa's not your traditional 18-13 overall team. Most teams this young wouldn't have a record that good with the schedule Nixa has faced.
What the Eagles may lack in star power compared to Ozark or Kickapoo, they make up for with defense and passing. The "Taylors" (Taylor Gregory and Taylor Arnold) really work the ball around in Nixa's 6-2; they've combined for over 600 assists. Madison Grantham (14.3 digs per match) is very active defensively.
Nixa steers the majority of its attacks toward senior Alissa Flint (184 kills) and Regan Ansley (165 kills).
The Eagles have suffered some frustratingly close losses in the past week, to Ozark, Carl Junction and Rogersville. The slate's wiped clean next week.
The darkhorse(s): Coach Stephanie Bates may have needed some name tags on her players in preseason practices to recognize all the new varsity faces, but the Falcons have come on strong this fall.
Glendale (16-10-3 overall) earned an unlikely, and outright, conference title thanks to recent wins over Kickapoo, Lebanon and Hillcrest. This from a Falcons team that came into the season with only one experienced varsity player (Elizabeth Quinn) returning.
Quinn and promising sophomore Gabby Birmingham lead Glendale in kills. Birmingham also doubles as a setter, along with Chloe Satterfield. Quinn is also a factor at the net defensively with her blocking.
Glendale has won nine straight mid-week (non-tournament) games dating back to a Sept. 14 road victory over Camdenton. Glendale lost to Ozark in the first week of the season, played Nixa to a tough three-set loss at home two days later, and pulled the upset of Kickapoo on Oct. 6.
Host Branson will look catch Glendale looking ahead in Monday's opening round. The Pirates have a winning record (17-13-3) despite winning only two conference games in a stacked COC-Large.
Caroline Wescott (142 kills, 45.4 kill percentage), Emily Ogden (137 kills) and Madi Holmes (105 kills) see the bulk of Branson's hitting opportunities.
Notable matches for Branson include: a three-set loss to Carthage, a three-set win and a three-set loss to Lebanon and a 2-0 win over Aurora. The Pirates also beat host McDonald County in the finals of the Mustang Classic on Oct. 8.
The winner of this round will host Saturday's sectional/quarterfinal pod and face the winner of District 10 in the first match.
CLASS 4 DISTRICT 12 @ WEBB CITY HIGH SCHOOL – CLICK HERE FOR THE BRACKET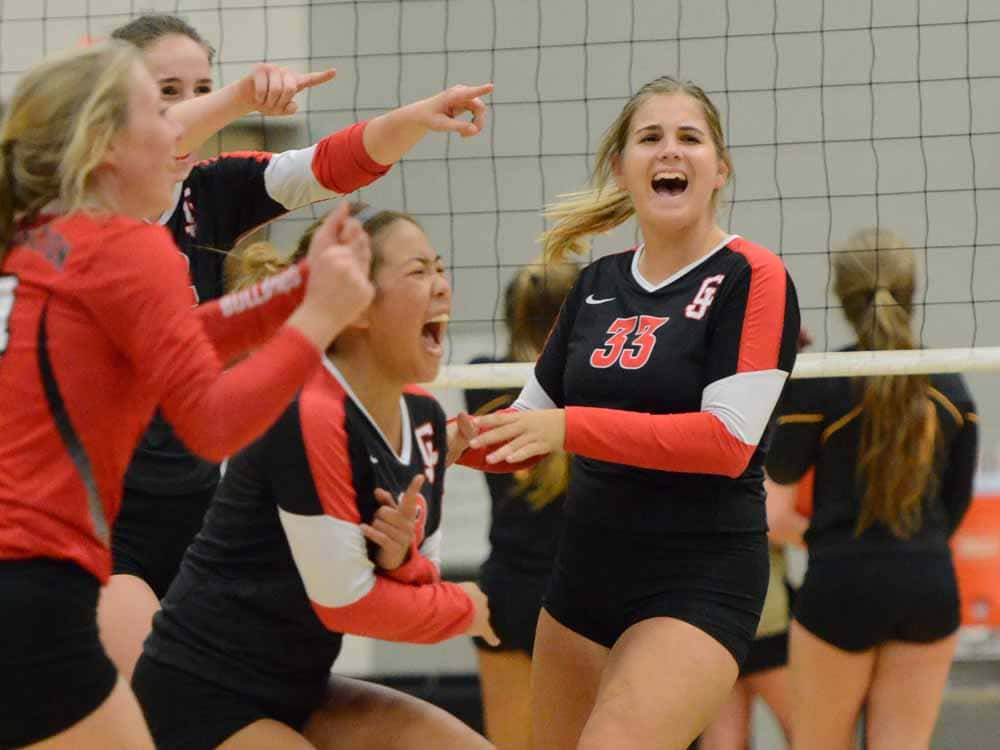 This Joplin-heavy district features five teams with at least 15 wins, but only one (No. 2 seed Carl Junction) at the 20-win plateau.
The favorite: Carl Junction doesn't have the best overall record in this field, but the Bulldogs are the top seed thanks to a rigorous schedule and a three-set win at Carthage earlier this month.
First-year coach Cheryl Sharples has carried over her winning ways from Carthage. The Bulldogs have played a lot of Arkansas schools, but one of their best efforts of the season came in the Ozark Grand Slam on Oct. 8 when they took perennial Class 4 title contender Lafayette to three sets in an eventual loss.
Carl Junction got the short end of the stick scheduling wise in its first year in the COC-Large. The Bulldogs' had to play arguably four of the league's five best teams – Ozark, Carthage, Willard and Nixa –on the road. Ozark and Willard were the only teams to beat CJ in league play.
Junior Lexi Miller (237 kills, 3.9 kills per set) and sophomore Grace Southern (198 kills) will see a lot of action on CJ attacks. Defensively, Olivia Lewis (103 blocks) is very active around the net. CJ has good size and athleticism.
It's a running theme with some of these COC-Large teams, but CJ figures to be even better in 2017. In addition to Miller and Southern, the Bulldogs will also return their starting setter in Sylvia Lawson (576 assists) and digs leader in junior Kamryn Colburn (268 digs).
The spoiler: Carthage is 24-8 overall and many of its losses have come to teams that could end up in Cape Girardeau – Ozark, Rogersville and Strafford among them. Carthage took CJ to three sets at home in late September.
Republic pulled off an unlikely run to win this district a year ago. The Black and Orange Tigers entered districts with a losing record before knocking off a pair of 20-win teams in Carl Junction and Carthage to advance to the state playoffs for the fourth time in five years.
Coach Piper Wright's squad boasts an 18-12-1 overall record heading into next week. Sophomore Lauren O'Hara (183 kills) has continued to improve and leads Republic in kills. Republic will also look to the senior tandem of Rachael Combs (142 kills) and Lexi Long (103 kills).
Junior Eryn Russell (291 digs, 9.4 digs per match) is one of the top DS's in the COC-Large. Bella Drennan (566 assists) has quickly caught on after switching from OH to setter. She had 38 assists in a three-set win over Central earlier this month.
Notable three-set losses for Republic: vs. Helias Catholic (Sept. 24) and vs. Glendale (Aug. 30).
Webb City (11-17 overall) features one of the district's most athletic players in junior Cami Roy, who leads the Cardinals in kills (118), total blocks (28) and digs (171).
The Cardinals draw No. 5 seed Joplin in the opening round. Senior Jessica Zengel is the unofficial team MVP – she leads the Eagles in kills (221) and digs (248). Junior setter Hadley Harper has tallied 564 assists and 134 digs.
The winner of this district would face the winner of District 9, likely Blue Springs South, in Saturday's sectional round.
OTHER: 5A West District Tournament @ Alma, Ark.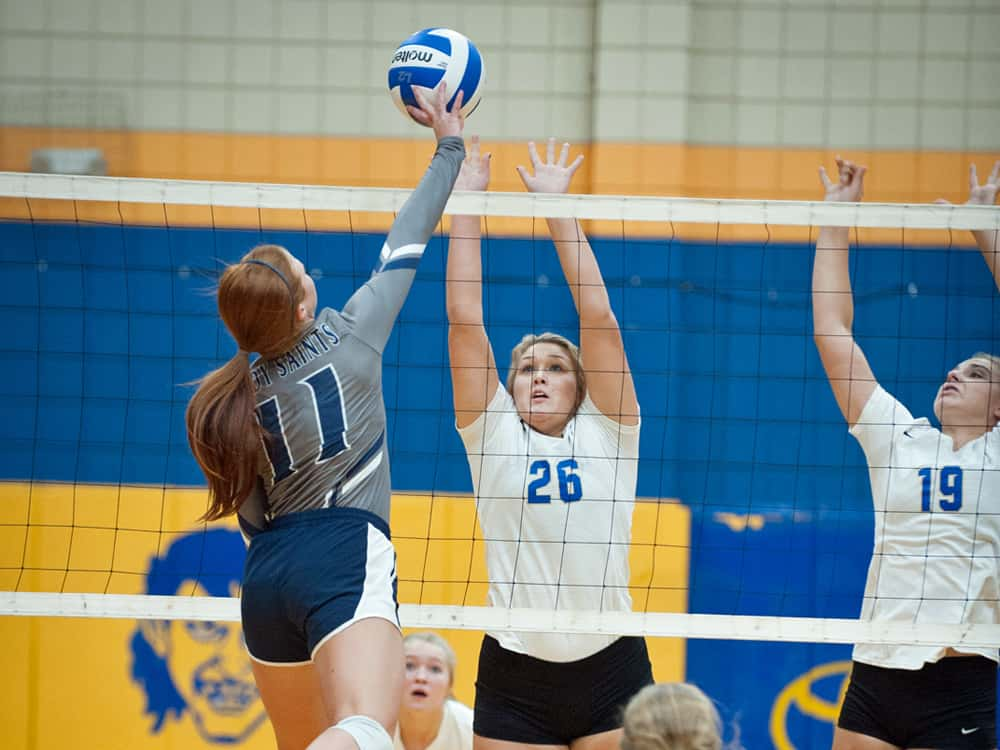 Let's not limit ourselves to the Show-Me State for these previews.
There's an Arkansas school in the KY3/KSPR DMA (coverage area) worth keeping an eye on for the postseason. The Harrison Goblins (21-6 overall) have clinched their third straight season of 20-or more wins under coach April Mattix.
Arkansas has revamped its postseason format for large schools (Class 5A and 6A), which include the 5A Goblins. The format's a bit different from Missouri, but if Harrison can win at least one game at districts, it'll earn a spot in the upcoming Class 5A state tournament held in Jonesboro.
The Goblins want a district title though, for seeding purposes and pride.
Harrison's in the midst of a good multi-year run with its current group. The Goblins are a team that plays a lot of juniors and sophomores.
Arkansas high school volleyball teams play best-of-5 matches instead of the best-of-3 style in Missouri, so the Goblins' stats are inflated compared to teams here, but Harrison is overall a balanced team.
Five players have between 129-176 total kills, led by sophomore Brooklin Edwards (176 kills, 2.2 kills per set, 45 percent kill percentage). Jessica Pratt (156 kills) and Peyton Knight (129 kills) are two seniors among Harrison's hitting group that runs five deep between Edwards, Julianna Cramer (156 kills, 2.0 per set) and Jenna Martin (151 kills 2.0 per set).
Cramer, a co-captain, is a Swiss Army Knife who contributes offensively, defensively (39 total blocks, 214 digs) and with her passing as the team's lone setter (645). Sophomore Linsey Choate is the team's tallest player at 5'10" and leads the Goblins in total blocks (65).
Elsewhere, another junior, libero Isabella Gibbany leads the Goblins in digs (319).
By my count, Harrison's six losses have come to teams in Class 6A or Class 7A, so that bodes well for facing teams in their own Class from here on out.
The Goblins, winners of seven of their last eight matches, earned a 1-seed on their end of the district bracket. With already successful programs in baseball, soccer and a 6-1 football team, the Harrison volleyball team could be the latest Goblins program to make noise in the postseason.