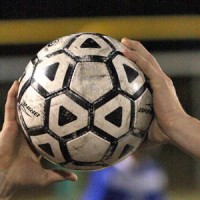 by, Missouri State Athletics
EDWARDSVILLE, Ill. – SIU Edwardsville (5-4-3, 2-1-1 MVC) handed the Missouri State men's soccer team (7-4-1,3-1 MVC) its first loss in Missouri Valley Conference competition, after scoring the game-winning goal in the 88thminute of the match to take the game, 2-1, over the Bears.
The Bears didn't waste any time setting up their offense and pushing the ball at the Cougars to start the match. Emmerich Hoegg took the first shot of the night for either team in the second minute of the match, but had it blocked out-of-bounds by an SIUE defender, setting up a corner kick for the Bears.
Phil Woods took the corner kick for MSU from the near side of the pitch. Sending the ball into a crowded box, junior Robbie Oslica was able to leap over the top of nearly 10 players to head the ball past the league's reigning keeper of the week, Kyle Dal Santo.
The Bears and Cougars battled for possession time following Oslica's goal, as each team took three shots and both Dal Santo and MSU's goalkeeper, Liam Priestley, recorded two saves.
In the 34th minute of the match, a Cougar shipped the ball into the box from midfield, where a hand ball was called on MSU, setting up a penalty kick for SIUE. Captain Austin Ledbetter converted his third penalty shot of the season, helping the Cougars equalize with the Bears.
Priestley grabbed his third save of the night in the 47th minute of the match, as SIUE's Devyn Jambga kick-started the offense for the Cougars in the second half.
In the 55th minute, the Bears earned a free kick from 35 yards out after a foul by the Cougars. Phil Woods took the shot over the lone SIUE defender, forcing Dal Santo off of the line. The Cougar keeper attempted to punch the ball away, but MSU's Stuart Wilkin got his head under the ball, sending the ball less than three feet above the crossbar and down the outside of the net.
With less than three minutes left in regulation, SIUE's Lachlan McLean had a breakaway look for the Cougars. Priestley came out of the net for the Bears to make the sliding save, popping the ball up and out-of-bounds, to set up the corner kick for SIUE. In the final 90 seconds, McLean struck again, finding the back of the net and ending MSU's three-game win streak.
Missouri State will return to Betty and Bobby Allison South Stadium on Saturday (Oct. 15) for an MSU Homecoming match-up with the Drake Bulldogs at 7 p.m.