By Matt Turer — mturer@ky3.com
@MattTurer
Joplin, Mo. — All Rachel Rook needed was 10 strikeouts. Ten strikeouts to reach 1,000 over her decorated career at Republic. Instead, she got 20. And why not? If you're gonna do it big. Do it big.
Rook fanned 18 Neosho batters through the first six innings Thursday afternoon in Joplin, setting down two more in the seventh as 1-seed Republic advanced to the Class 4 — District 12 finals with a, 5-3, win over 4-seed Neosho.
The milestone 1,000th strikeout came in the fourth inning. Entering the night with 990 career strikeouts, Rook sat down Kaylee Johnson looking for No. 1000 to lead off the fourth inning. She becomes the fifth pitcher in state history to reach the milestone. The record is held by former Walnut Grove pitcher Hannah Harman (1,109 Ks).
CLICK HERE FOR NEOSHO VS. REPUBLIC GALLERY
"It means a lot," Rook said. "Not a whole lot of people have done it. It's cool, and I'm in the state record book, and that's cool, too."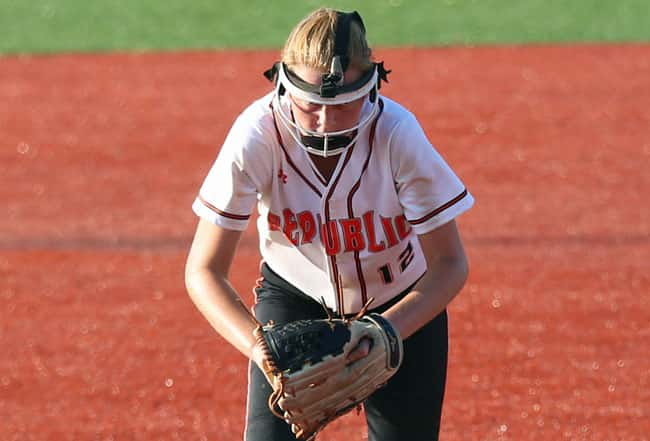 Republic coach Lee Dishman has been coaching Rook since the senior was an eighth grader. He's seen every one of her 1,010 strikeouts. And counting.
"I'm extremely proud of her," he said. "Me and Rachel have got a special relationship and a special bond. Being around the program, I just watched her mature into a young lady. I can't say enough good things about her and her work ethic. She deserves everything she gets."
Republic will meet 2-seed McDonald County Friday at 4:30 p.m. The Mustangs topped 3-seed Webb City Thursday night, 4-1. From this point on, every game is special for Republic's seniors.
"The postseason is the end of any season but now it's like it's really the end," Rook said. "I've been determined every year, but it's just a little different this year."
Taylor Hulland put Republic up 1-0 with an RBI double in the first inning, driving in Kami Holt.
The Tigers held that 1-0 until scoring four in the bottom of the fourth off Neosho starter Cloe Neece.
Hulland started Republic's fourth-inning outburst by scoring a little-league style inside-the-park home run after an infield single turned into two throwing errors and a run scored. Julia Higgins made it back-to-back homers when she took a Neece pitch over the wall in center. Kami Holt drove in Republic's fourth and fifth runs with a two-RBI single, scoring Megan Thorne and Alyssa Roth.
"We just wanted to go out there and get ahead," Republic head coach Lee Dishman said. "Our team wanted to put pressure on [Neosho] early and we did."
Neosho ended up hanging around, getting runners in scoring position in the second, sixth and seventh innings and scoring a pair of runs in the sixth thanks to two hit batters and two walks by Rook.
The Wildcats would add a run in the seventh to draw within two runs when Neece scored on a Republic error, but Neosho could never really take advantage of the five walks and two hit batters issued by Rook.
"Rachel has got a little chip on her shoulder because people are doubting her a little bit the way she's been throwing, but nobody is better than her when it comes to the circle. I don't care what anybody says," Dishman said.
"Tonight, with 20 strikeouts, and she still wasn't on her best. She's got more to go and hopefully she'll show it [Friday] night."
The complete game was Rook's 21st of the season. She struck out 20 over seven innings, walking five, hitting two batters and allowing two hits on 133 pitches. Only two runs were earned.
"[Rook is] impressive," Neosho head coach Megan Burleson said. "It's impressive to strikeout 20, but it's also impressive for us to still score three runs having struck out 20 times. I was proud of them for what they were able to accomplish. I'm excited about where we're headed and what we can do next year."
Taylor Baker and Tori Frazier managed Neosho's two hits.
Higgins finished 3-3 for Republic. Holt was 2-4 with two RBIs.
As far as Friday night? Well, Dishman kept his comments pretty straight forward.
"We'll have to come out and play," he said. "It'll be a game."
INNINGS 1 2 3 4 5 6 7
Neosho 0 0 0 0 0 2 1
Republic 1 0 0 4 0 0 X
McDonald County 4, Webb City 1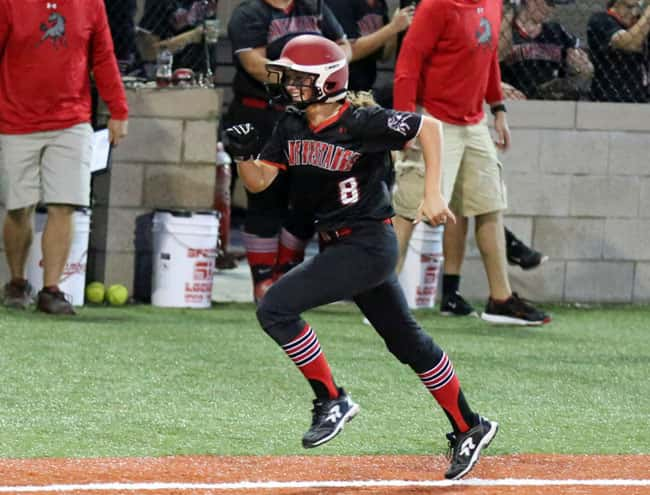 After one inning under the lights in Joplin, it looked like the Mustangs and Cardinals were prepping for a shootout.
Webb City loaded the bases in the top of the first inning but managed just one run. McDonald County responded with three runs in the bottom half. But then, the scoring stopped. McDonald County's Elizabeth Jones and Webb City's Addy Darby settled in, transforming this game into a pitcher's duel.
CLICK HERE FOR WEBB CITY VS. MCDONALD COUNTY GALLERY
The Mustangs managed just two hits over the next four innings and 3-seed Webb City just five over the final five as 2-seed McDonald County held onto its first-inning lead, winning, 4-1.
"I think it was nerves on both sides," McDonald County coach Skyler Rawlins said of the first inning. "It was whoever was going to calm down and battle through it, and I think we did a great job of that."
McDonald County's Cloee Helm tripled into the left-field gap in the sixth inning, driving in Jones for a big insurance run.
"That was huge," Rawlins said. "One run is a lot of breathing room, especially in the seventh when you're facing the top of the lineup."
Mariah Newby and Kaia Storm rallied Webb City with a pair of two out singles in the seventh, but Jones struckout Mareika Turpen to send McDonald County to the district title game.
"I felt like we were in it every inning," Webb City head coach Shauna Friend said. "I knew we were going to come around and put some runs across. We just hit the ball in spots we didn't want it to go. I couldn't be prouder of them."
Webb City took a 1-0 lead in the first inning courtesy of a pair of walks and a hit batter, with Newby scoring the game's first run.
A two-RBI double by Kali McClain and an RBI single by Aubrie Dunn in the first inning put the Mustangs up, 3-1.
McDonald County will face 1-seed Republic Friday at 4:30. The Tigers topped the Mustangs, 7-2, on Sept. 29.
"I think [playing Republic recently] helps, but we're not going into the game thinking it's anything different," Rawlins said. "Our approach is going to be the exact same."
INNINGS 1 2 3 4 5 6 7
Webb City: 1 0 0 0 0 0 0
McDonald County: 3 0 0 0 0 1 X