SPRINGFIELD, MO – Springfield Catholic hosted their annual cross country meet at Springfield Underground on Tuesday, just three days after many runners participated in the Chile Pepper Race in Fayetteville, Arkansas.
The short turnaround between races tested even the best runners. But Springfield Catholic junior Stephen Kielhofner was still able to cross the finish line first overall (16:29.07) and first in the large school division (Class 3 & 4) despite setting a personal record this weekend in Fayetteville.
"The Chile Pepper really took it out of me," said Kielhofner. "I was kind of struggling in this race… It's definitely great to win it. Chile Pepper was probably the priority in mind, but it's still great to win it. And this being our home meet, it's great to have all these teams here with us."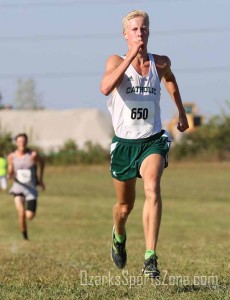 He and Strafford's Shane Burns were in the front pack for much of the race. Burns finished just behind Kielhofner to win the small school division (Class 1 & 2) with a time of 16:35.49.
CLICK HERE FOR PHOTOS FROM THE BOYS' RACE
"It felt awesome," said Burns. "I tried to stay just right up with [Kielhofner] and he definitely pushed me really hard and he did very good especially just coming right out of the meet on Saturday."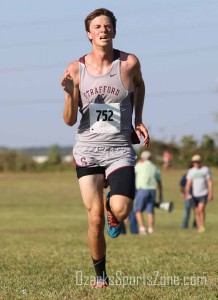 "It's always nice to have someone to run with you," Kielhofner said of Burns. "Shane especially ran with me most of that race… he's just a good guy to run with, a good guy in general."
Tabitha Weber set a milestone on Tuesday by winning the Springfield Underground race for the fourth time; one for each of her four years at Marshfield. She won on Tuesday with a time of 19:55.46.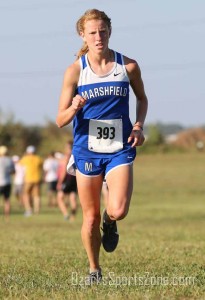 "It's really amazing and I feel really blessed to have been able to say I've won all four years," said Weber. "In every year, it's been like, I've had moments in the race where it's like, 'oh, I just want to stop' and everything, but God just kept me going and everything and really pushes me, so it's just an amazing feeling and a blessing to be able to say I can win all four years."
CLICK HERE FOR PHOTOS FROM THE GIRLS' RACE
Weber won the large school division, while Stockton's Luella Bradshaw won the small school division in the girls' race, coming in twelfth overall. She, with help from Sarrah Hottes, chipped in to secure the team title amongst small schools.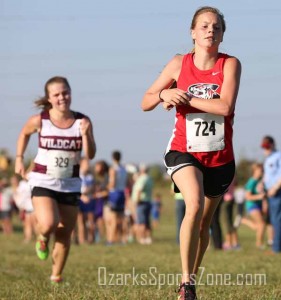 "Well to be honest, I'm elated because we really haven't had a full team much this year," said Stockton coach T. Jay Sanderson. "We've had girls injured, most races we've ran with three girls and a couple with four, and just now in less than a week we've had five girls be able to run. So yeah, just to get a team score out there, honestly I'm surprised that the girls came away with it but I'm obviously excited about that."
On the boys' side, Sedalia Smith-Cotton won the team title in the large school division and Lamar won the small school division.
Lamar's Mark Venable came in third overall behind Kielhofner and Burns, crossing the line at 16:53.61. His teammates Kolin Overstreet and Jesse Compton came in fourth and fifth overall, respectively.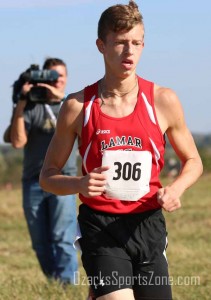 "We ran really well," said Coach Rodney Baldridge, "especially after running Saturday at Chili Pepper, to turn around and win Tuesday, I was real happy… We have some pretty high goals. We want to do well at state. That's why we come to meets like this with good competition."
Top Boys Finishers:
Stephen Kielhofner, Springfield Catholic, 16:29.07
Shane Burns, Strafford, 16:35.49
Mark Venable, Lamar, 16:53.61
Kolin Overstreet, Lamar, 17:15.87
Jesse Compton, Lamar, 17:19.29
Easton Sabala, Hermitage, 17:21.35
Matthew McHenry, Rogersville, 17:32.08
Bailey Jones, Hermitage, 17:37.39
Jacob Davis, Strafford, 17:41.91
Jay Strausbaugh, Rogersville, 17:53.15
Alex Beard, Smith-Cotton, 18:05.00
Garrett Morey, Lamar, 18:08.96
Matthew Christoffer, Clever, 18:11.53
Dillon Meyer, Hermitage, 18:14.56
Greg Kelly, Springfield Catholic, 18:16.17
Top Girls Finishers:
Tabitha Weber, Marshfield, 19:55.46
Calli Beshore, Nevada, 20:19.70
Anna Galligos, Springfield Catholic, 20:54.29
Amy Vedder, Rogersville, 20:58.27
Grace Edgar, Smith-Cotton, 21:05.49
Faith Stark, Rogersville, 21:28.56
Kelie Henderson, Bolivar, 21:44.59
Alena Fugit, Bolivar, 22:02.51
Laci Lindsay, Bolivar, 22:02.74
Anna Bandy, Bolivar, 22:04.16
Kylie Kirby, Republic, 22:05.29
Luella Bradshaw, Stockton, 22:09.92
Hope Strausbaugh, Rogersville, 22:10.95
Andrea Gray, Springfield Catholic, 22:13.60
Patience Lockhart, Nevada, 22:13.92